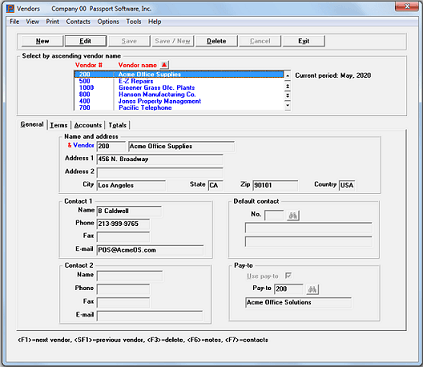 ---
---
Vetting Your New Accounting Software for Small Business
Hello again,
This post is for companies that are interested in upgrading from their entry-level accounting software systems.
When is the time right to upgrade from your entry-level accounting solution for small business?
It's important to realize that there are professional-level options that are both affordable and comprehensive for a smaller company.
Rather than purchase a full Accounting ERP system that may be cumbersome and expensive, you can vet alternative small, yet robust solutions such as Passport Software's accounting solution for small business.
Have you been using QuickBooks, Sage50, FreshBooks, Xero or another system that is not quite full-featured enough to comprehensively manage your financials?
If you are using various manual workarounds and spreadsheets to compensate for a lackluster accounting system, you may find that your staff is wasting time and effort.
Closing your books in an efficient, orderly, and timely manner can free up your employees for other important operational duties.
Professional-level software will help your accountant streamline your tax preparation, and a comprehensive accounting system can integrate with other software modules such as order entry, inventory management, and more.
Reporting
Does your entry-level software have reporting capabilities that provide adequate business intelligence for your company?
Comprehensive, real-time reporting allows you to access the data you need and provides a bird's eye view of your financials for better business decision making.
Our desktop accounting solution for small business provides comprehensive reporting, and it allows you to safeguard sensitive data with user and system-level access controls. Also, you still have access to important company data if the internet is down.
Tailored to Your Needs
PBS Essentials™ is a modular, scalable system that is tailored to your needs, and you can add on as you grow. You can automate the processes you need for your smaller company, and our excellent consulting will help ensure our system meets your company's unique needs.
Our top-notch U.S. based support is both personable and knowledgeable.
Time to Upgrade
If your current system is slow, unreliable, not comprehensive enough or you are using manual workarounds, it may be time to upgrade.
Are you happy with your accounting system's performance as well as its customer service?
Accounting ERP consists of a range of modules, and each module integrates into a system that makes comprehensive management of your financials easy. It also provides useful real-time reporting for better business intelligence.
Affordable
Will upgrading to a professional-level system be costly?  PBS Essentials™ is designed to be both powerful and affordable for the smaller company.
With PBS Essentials™, you can choose three full-featured Passport Business Solutions modules for Accounting or Distribution, for a single user and a single company.
Vetting Your System
You can begin by making a list of your needs and current pain points. What areas of improvement would you like to see in your small business accounting solution?  This may involve affordability, performance, more features, better reporting capabilities, and improved customer service.
The basic features you are getting from your entry-level software will be covered by a more comprehensive system, so it's important to focus your list on the required improvements.
·         What are you currently tracking with spreadsheets that should be automated?
·         What workaround methods are you using that need to be encompassed by your new system?
·         What current information, data, or reporting capabilities need to be automated or enhanced?
·         What strategic data do you need to help you become more efficient, competitive, and profitable?
·         Your new system should also provide audit trails and access controls to help reduce the risk of fraud.
Where to Look
You can ask other companies in your industry if they have upgraded their entry-level software and if they are satisfied with their current system. Online reviews are especially helpful.
After you have done some initial research, the best course of action is to call and ask to speak with a specialist who can answer initial questions about their product.
If the initial consultation goes well, you can dive deeper with your consultant.  After you have found a potential match, you can request a demo and onboard other key decision makers or potential software users in your company.
Passport Software
PBS Essentials™ is geared towards smaller companies. It is a robust and affordable system that is scalable to help you grow your company and accommodate your changing needs.
Add-on modules such as Payroll, ACA Reporting, our PBS Mobility™ Orders and Inventory App and more, are also available.
If you need more than 3 modules or additional users or companies, we are happy to discuss your options. Installation, data conversion and training assistance are all available.
Passport Software has been helping small and mid-sized companies for 30+ years, and our consulting and support are top-notch.
Call 800-969-7900 to learn more about our accounting solution for small business. Or contact us – we are here to help.
---