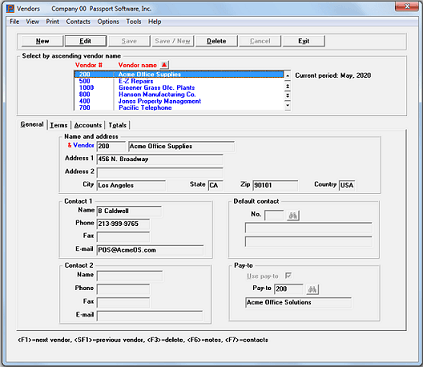 ---
---
Accounting Software for Small Business and Mid-sized Companies
Hello again,
This post is for small to mid-sized companies who may be vetting a new accounting system.  We hope you find it useful.
The following is sourced from thebalancesmb.com. We hope you find it useful.
"Regardless of your needs, accounting software can be a good compromise between trying to do your own accounting using spreadsheets and hiring a professional to do all of your small business's accounting.
Here are the main advantages using small business accounting software offers you:
1) Immediacy
Whether you are running a retail operation where each transaction is electronically entered as it occurs or a one person consultancy where you are personally entering your transactions bi-weekly, using small business accounting software forces you to keep up with data entry and stay current.
And being forced to stay current has the added benefit of keeping you tuned in to the financial pulse of your small business. You have a much better chance of spotting a cash flow gap or a customer who's developing a serious credit problem than the small business person who's just throwing all the receipts and invoices into a drawer and dealing with them at the end of quarter or year.
2) Mobility
Cloud-based accounting software gives you the advantage of being able to access your business accounts from anywhere. As well as supporting the most commonly used web browsers most online accounting software vendors provide iPhone/iPad and Android apps, allowing you to (for example):
Send an invoice directly from your mobile device.
View client, expense, or invoice information.
Record expenses immediately and attach receipts. For example, you can snap a picture of a dinner tab with a client and attach it to the expense.
Track billable time with a built-in timer.
Import a new client directly from your phone contact information.
Another time and money-saving advantage of online accounting software is the ability to allow your accountant direct access to your books through the online application, rather than having to manually transfer paper or electronic fileswhenever they need access to your accounts.
3) Centralization
Using accounting software centralizes many aspects of your business's financial management as you will be able to deal with tasks such as inventory management, invoicing, payroll and even some aspects of customer relationship management all from within your accounting software program. Centralization saves you time and money as you don't have to purchase separate software programs to do things such as invoice customers.
4) Simplifies tax compliance
Besides showing how much tax is payable on particular invoices, small business accounting software also allows you to prepare reports showing, for instance, how much of a specific tax your business has paid over a certain time period, making it easier to gather the data you need to complete and file required government tax forms (such as, in Canada, GST/HST returns). Some business accounting software even allows you to directly file GST/HST returns.
5) Provides analysis tools
Having good business accounting software is like having an in-house financial advisor; the customizable reports allow you to analyze different aspects of your small business, providing the data you need to make better financial decisions. Reports such as Balance Sheet Summaries show exactly how well your business is doing at the moment while reports such as Customers Who Owe Money let you manage your Accounts Receivable more easily.
6) Accuracy
Because small business accounting software does so many of the necessary calculations for you, your financial data will have a higher level of accuracy than it would if you were keeping old-style pen and paper records – especially if you have several different people inputting the data.
It also makes it easier to access and provide accurate information. Need a supplier's mailing address? To know when a customer last made a payment on an outstanding account? Or how many ACME yoga mats you have in stock? It's all right there."
Professional level small business accounting software can help companies simplify their business processes, adhere to GAAP standards, and comply with changing tax jurisdictions and regulations.
---