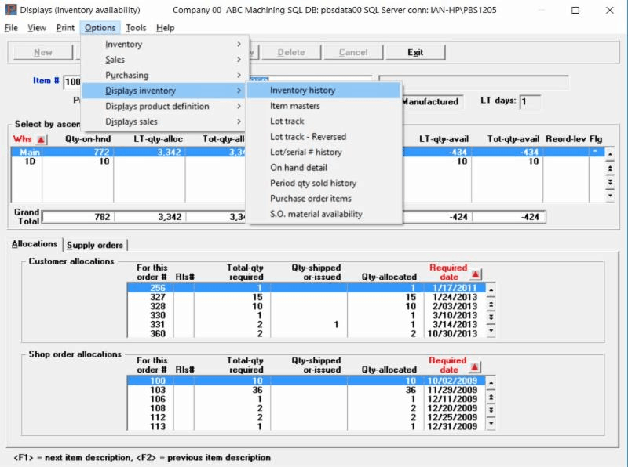 ---
---
Manage Fluctuating Costs
Hello again,
This post is for small and medium-sized manufacturers that are vetting new manufacturing software systems. We hope you find it useful.
Managing fluctuating material costs can be challenging if you are using a manual or outdated system, and prices that vary month-to-month can have a significant impact on your company's budget and the cost of your product.
Dealing with an unstable supply chain creates extra work and can affect customer service. Inefficiency and delays can be a side-effect of parts being unavailable when you need them.
– If you are manually tracking, a good manufacturing system will allow you to gain better control over your purchasing. Setting alternate suppliers in your Manufacturing ERP software can help streamline the purchasing process.
– Automating purchasing will also help if you are scrambling to use system workarounds such as spreadsheets to determine the best availability and pricing from various vendors.
– Comprehensive manufacturing ERP can help streamline your operations end-to-end and allow you to quickly and easily gain visibility of your purchasing and pricing options when replenishing inventory.
– A good manufacturing software system will allow you to select costing methods, such as cost-plus or cost-based, which can help you prepare for rapidly changing supplier costs.
A comprehensive system that provides real-time data can help you maintain accurate inventory and compensate for longer lead times.
– Create a vendor "report card" that tracks quality and delivery performance
– Purchase larger quantities or buy them further in advance
– Track fluctuating prices of materials
– Maintain a preferred vendor as well as alternative sources
An effective manufacturing system allows you to spend a lot less time managing all these factors and helps you gain better control of purchasing.
Ongoing ROI
If you are manually tracking or using an outdated system, a manufacturing ERP solution that is the right fit for your company can help streamline operations.
The right system can also provide ongoing ROI. Many of our PBS™ Manufacturing customers benefit from ongoing ROI starting six months after implementation.
Do any of these scenarios sound familiar?
– Money spent ordering materials you do not need and not enough of what you do need. Orders are held up, inventory levels are too high, and cash is tight.
– Most of last year's jobs seemed profitable, but the bottom line does not reflect that. Where is the money going?
– Data is scattered all over the organization – in spreadsheets, handwritten notes, and even in people's heads. Aggregating data to make good business decisions is difficult with manual tracking.
Most manufacturers experience a drastic improvement in on-time deliveries after implementing the right system:
– Have the right materials on hand when you need them. Enter alternate vendors into the system in order to have better visibility of your purchasing and pricing options.
– An effective system provides more throughput with fewer employees, freeing staff up for other important duties.
– Prevent bottlenecks and eliminate "best-guess" planning by streamlining and gaining better visibility of your operational processes.
– Better visibility and real-time reporting help you gain control of your shop floor, meet customer demand on time, and provide better customer service to remain competitive in the marketplace.
PBS™ Manufacturing can help you increase productivity, prioritize tasks, and generates useful reports that provide actionable intelligence for better business decision making.
Passport Software provides excellent consulting so you can determine if our manufacturing solution is right for your company. PBS™ Manufacturing also integrates with PBS™ Accounting for a full-featured ERP system.
Call 800-969-7900 to learn more about PBS™ Manufacturing, an affordable yet robust system designed to serve the needs of small to mid-sized manufacturers. Or, contact us – we are here to help.
---