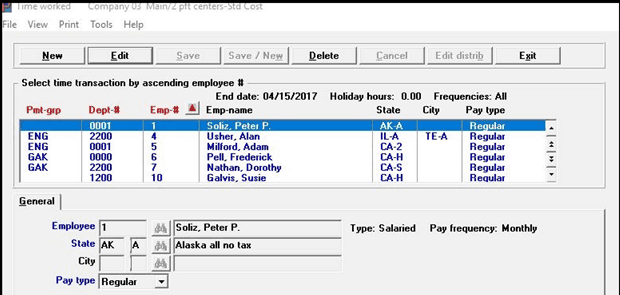 ---
---
In-house Payroll Processing
Hello again,
This post is for small to mid-sized companies who may be vetting an in-house payroll system. We hope you find it useful.
Advantages
Implementing in-house payroll software can save your company money, offer more flexibility, and may provide better security than an outside payroll service.
After you pay the up-front fee to license and implement the software (and nominal annual fee for maintenance/updates) cost savings on an outside payroll service can pay for the software over time and provide you with ongoing ROI.
Flexibility
With in-house payroll you control the entire payroll process. Desktop payroll software allows you to make last minute-changes, and you can process payroll on your own schedule.
Also, a payroll service may charge additional fees for adding overtime, adjusting shifts, and they can increase the cost of their services at will.
Security
SaaS is relatively simple to implement as it does not have to be downloaded and installed.
However, your computer still needs to have an updated operating system/anti-virus software and your network maintained. Using the cloud may be more of a security risk than an on-premise solution.
Also, when the internet goes down, you have no access to your cloud data.
Passport Software
Passport Software's in-house payroll software is comprehensive and easy to use:
·         Flexible settings: Accommodates a variety of payroll and deduction needs
·         Compliance: Software updates issued as needed to adhere to federal, state, and local payroll reporting regulations
·         Safeguard sensitive data: User and system level access controls. Payroll does not even appear on the menu for those users not associated with payroll processing
·         Reduce fraud: Direct Deposit reduces check access and printing costs. Positive Pay records produced for transmission to your bank provide further control
·         Audit trails and comprehensive reports protect your operations:  Payroll check register, history report, union deductions report, hours report as well as a standard quarterly report, a 1099 report (for non-employee compensation), a year-end W2 information report, and more
With 35 years of payroll processing experience, Passport Software provides comprehensive yet easy to in-house payroll software for small businesses and medium sized companies.
Call 800-969-7900 – Or Contact Us to learn more about our accounting software.  We are here to help.
---