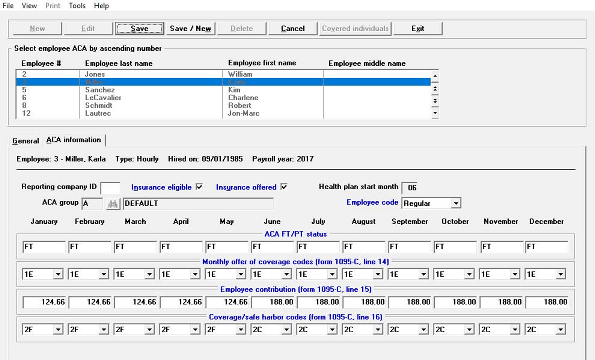 ---
---
Manage Employee Data Effectively
Hello again,
This post is for Applicable Large Employers (ALEs) required to comply with the Affordable Care Act. We hope you find it useful.
Whether you are an HR professional, a company administrator, or work in another capacity and are tasked with ACA compliance management, your duties are crucial in helping avoid costly penalties.
Maintaining data accuracy and effective compliance management can be complex depending on your company circumstances, and manual tracking may result in errors.
Having comprehensive ACA software can help you gain control of compliance management and ensure more accurate tracking of ACA-related employee data.
Manual Tracking
If manual tracking of ACA-related data throughout the year has become burdensome, comprehensive ACA software can help.
Not only will automation help reduce errors if tracking is overwhelming and complex, but streamlining your data management can help ease the burden of compliance management.
Comprehensive ACA software can help you avoid compliance or reporting errors which can lead to costly penalties. And, having your employee data aggregated in one silo can help simplify the tracking process rather than manual tracking where you have to dig through employee payroll records to procure hours-worked data.
As manually tracking can be more error prone, it's important to ensure you file information correctly to avoid penalties now that Good Faith Transition Relief has ended, starting with the 2021 tax year.
In other words, there is currently no relief for failure to file or furnish forms in a timely and accurate manner. The exception is if you can provide "reasonable cause" for errors, such as employees providing the wrong information to you.
Overwhelm
ACA software can help alleviate the overwhelm of compliance management, especially if your employees have fluctuating hours, work at more than one location, or perform several jobs with varying pay rates, for example in the food service industry.
Passport Software offers an in-house payroll program with optional ACA software for the food service industry. And, our software can handle multiple EINs.
Employee hours may also fluctuate if your company has temporary or seasonal workers, or employees that have been re-hired. Accurate hours-worked tracking is crucial in knowing when to make offers of coverage.
Another source of overwhelm might be that you are using a payroll service or forms-only software where you are doing most of the work.
Affordability
Affordability depends on the scope and overall capabilities of your ACA software. If you are using a forms-only solution, the software cost will be lower.
But what about the price you could pay in potential penalties if your low-end solution does not track data throughout the year or alert you when offers of coverage are needed?
Affordability also factors in whether or not your ACA software is easy-to-use as well as the quality of customer service that is provided. If customer support and training are lacking, you may find yourself underwhelmed by your current solution.
Penalty Risk
If you are tasked with Affordable Care Act compliance management for your company, then you know that penalties can be very costly. Having comprehensive ACA software can help alleviate some of the pressure you may be feeling to ensure compliance to avoid penalties.
An effective ACA solution can provide ongoing ROI by helping you accurately manage data to help avoid penalties. Manual tracking might not be worth the "cost savings" if data management is complex. Steep penalties could far outweigh the benefits of saving money by manually tracking.
And, if you are overwhelmed by complex employee data management, manually tracking can be more prone to error, which could result in being responsible for costly penalties incurred by your company.
Human Resource Professionals
If you are a Human Resource professional, you are probably very busy and have numerous responsibilities on your plate. In addition to your regular duties, the pandemic may have resulted in extra work in order to re-hire employees or get staff set up to work remotely.
In addition to responsibilities directly involving employees, you are often tasked with the critical duty of compliance management for your company. Many of our customers came to us because ACA compliance management became complex and burdensome.
The Affordable Care Act involves 20,000+ pages of legislation and differs from other compliance management tasks as it is essentially a legal document that HR professionals and other admins are required to understand and comply with.
Not only can our ACA software and services help you streamline compliance management, but our friendly experts can walk you through the entire compliance process.  We can answer questions about the Affordable Care Act in general as well.
Passport Software
Our ACA software is IRS-certified and can streamline compliance management year-round. And, we are IRS-approved for optional proxy submission.
We also offer ACA Full Service and penalty response consultation services and have helped many companies avoid or drastically reduce penalties.
Our ACA software is easy to use as the dashboard is designed to look similar to form 1095-C. We provide excellent training and support as well.
Because our ACA solution is desktop software, it requires a one-time licensing fee and a nominal annual update fee, rather than ongoing monthly payments for a cloud solution. With desktop software, you control who has access to your server and can manage security settings internally.
To learn more about our ACA software and services call 800-969-7900. Or, contact us – we are here to help.
---