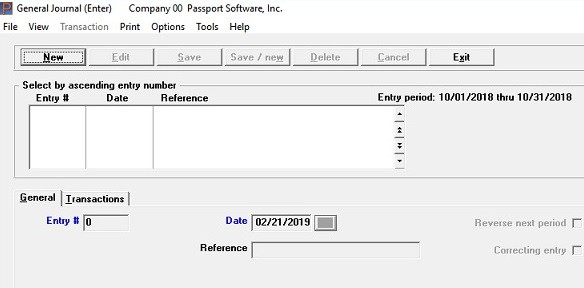 ---
---
Benefits of GL Software for a Smaller Company
Hello again,
This post is for small to mid-sized companies that are vetting new accounting software. This following is written by Peter Dalziel, Passport Software's VP of Customer Care. We hope you find it useful.
Point of Consolidation
The General Ledger is the point of consolidation of all of the accounting transactions from the various sub-ledger applications, for example, Accounts Payable, Accounts Receivable, Inventory, or Order Entry software.
Any transaction that asks you to distribute the results of a posting would be moved into the General Ledger where it would take its place according to the assigned GL account number and the distribution date.
At the end of the accounting period, a month, for example, you would have, in one place, a list of all transactions that came from all the various sub-ledger applications, cash deposits from A/R and cash disbursements from AP combined, and manual cash transaction from the Check Book.
This would give you the net flow through each account (net change in period) as well as the individual contributions to that GL account from different sources (for example, net debits from AR and net credits from AP).
Transaction Repository
The primary function of the GL is to act as a collection point and repository of your financial transactions. The main tools are queries, Trial Balance listings, and Financial Statements. These are respectively and in order of increasing summarization:
·        Queries – the ability to view individual details for transactions to specific accounts and dates.
·        Trial Balance report – the ability to run a report printing one or a group of accounts and include subtotals, for various levels of rollup, across a report period.
·        The ability to design, build, and run Financial Statements that facilitate the consolidation of various accounts into one summary total (e.g. summarizing the individual totals of each sales region into a national number.
The net effect of the consolidation of the data from a number of applications is, of course, having, for each month, the standard metrics that indicate the health of or weakness with the business: Liabilities and their change level, Receipts and their changes, Cash in bank, other Assets, Gross Profit, Net profit, and a break-down of overheads by different categories.
These metrics become more powerful with the built-in ability to calculate the percentage ratios that the individual reporting lines represent as a proportion, of, for example, that month's gross sales. This way, expenditures and overheads can be directly related to revenue.
That Comparatives feature allows the business operator to place this year's month-to-date (MTD) and/or year-to-date (YTD) in direct comparison with last period's or last year's, showing changes over a year for each category of metric being reported on.
More advanced reports can be built that are part of the Source and Application of Funds (SAF) reporting that allow you to see the movement of funding, liabilities and assets through the business. This provides leads that allow you to use the reports in a predictive function rather than just as after-the-fact analysis.
Accounting Capabilities
The GL gives you the ability to recap a period (month or year) to determine net change in assets and liabilities, gross and net profit and to provide sub-reports for both the Balance Sheet and the Profit and Loss statement that allow to drill down into specific functional areas of the company, e.g. what are my ancillary payroll and insurance expenses in comparison with changes in my sales volume.
Two additional benefits – General Ledger software for small business supports the traditional accounting techniques in performing the period end and year end accounting closings (reconciliations and balancing, etc.).
And, separately, diagnostic tools such as the Source Cross Reference report allow you to investigate specific sets of postings when closer scrutiny is needed or some research needs to be done.
Investment
The main investment that the business owner will make, besides the cost of the General Ledger module and implementation of it, will be, first, the design of a consistent and organized chart of accounts, typically GAAP-based, suited specifically for the business it is supporting.
This may be done with the aid of your accountant. Then with the Chart of Accounts in hand, Financial Statements will need to be designed and built. These may be no more than a simple Balance Sheet and P&L or they can be 20 or more reports and sub-ledgers providing an expansive and detailed look at the business.
The process of making/revising financial statements can be dynamic in the sense that you can start small with a limited number of reports and then build new ones as business needs and inspiration dictate.
Once these setups are done, the GL almost takes care of itself. Providing you regularly move the data that is automatically accumulated in the sub-ledgers, like AR and AP, into the General Ledger, and providing you verify that these data are correct by using standard accounting principles to reconcile and balance the accounts, the Financial Statements can simply be run and the results should accurately summarize and reflect your business.
Analytics
Professional level General Ledger software provides the tools to automate the production of an integrated view of the finances of the company.
Reporting includes a Balance Sheet formatted report and P&Ls as well as ancillary sub-ledgers. Also included are options for Comparatives to prior years and calculating ratios of different metrics for comparison purposes.
When combined with the more advanced functionality in the SAF reporting, the Financial Statement functionality in General Ledger software changes from just being an after-the-fact reporting and analytical tool to a tool that aids in forecasting and prediction of trends, also known as decision support.
Call 800-969-7900 to learn more about Passport Software's General Ledger software. Or contact us – we are here to help.
---