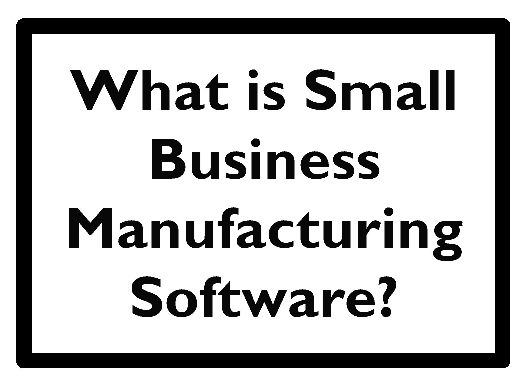 ---
---
What is Small Business Manufacturing Software?
Small business manufacturing software provides an automated system which performs functions such as Inventory Management, Purchasing, Sales Order Processing, Job Costing, and Material Requirements Planning (MRP).
Definition of Small Business
The definition of small business varies by sector, and according to the U.S. Small Business Administration, most manufacturing companies will qualify as a small business with 500 or fewer employees.
Small business manufacturing software can be used to perform functions such as inventory management, job tracking, quoting, costing, and integration with an accounting system.
Small companies that are manually tracking data may gain better visibility or utilize strategic reporting for better planning with an automated system.
Software Modules
Inventory Control and Purchasing modules allow companies to have inventory on hand for on-time fulfillment, while Job Costing allows business owners better reporting in order to view real time costing, including labor, overhead, and burden rate.
An MRP planning tool allows users to set planning rules such as safety stock level, order minimum, maximum and other ordering parameters.
Integration with a back-end accounting system is another advantage of implementing comprehensive manufacturing software.
Advantages of a Manufacturing System
Small manufacturing businesses might update their system in order adapt to a changing economy or marketplace.
Many small manufacturers implement or upgrade their company's software in order to streamline operations and grow their bottom line.
Founded in 1983, Passport Software, Inc. offers manufacturing companies with annual sales of 5 – 100 million a powerful small business manufacturing software solution, as well as a comprehensive accounting software solution.
To learn more call Dave Dorsey 800-969-7900 x145 or Contact Us.
---