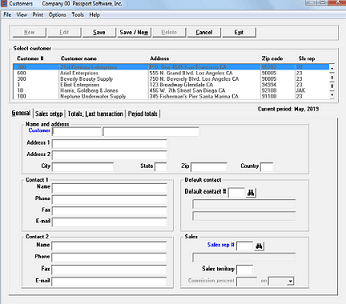 ---
---
Streamline Your Company's Financials
Hello again,
This post is for small to mid-sized companies who may be vetting a new accounting system. We hope you find it useful.
If you are manually tracking accounts receivable, there may be challenges in keeping your accounts receivable organized.
Automation
Automation can help keep your AR in order and ensure you are sending and collecting invoices in a timely manner.
Though clients may make late payments, automation will ensure that your processes are streamlined in order to reduce the risk of overdue payments.
AR software can help organize your invoicing and tracking of payments. Taking measures to implement the appropriate software can help ensure a more efficient and orderly process.
Automation can help you easily manage your data and can reduce the stress of having to track down the status of paper invoices kept in various locations.
Vetting a New System
As you review your data, you can identify areas for improvement such as updating customer information, the status of payments, and accuracy of invoices sent.
If you are not involved in the process, you can ask key staff who manage the accounts about areas that can be improved.
If you are tracking manually or using outdated software, vetting a new system will entail finding one that can create and track invoices, keep records of payments received, and securely store customer information.
Other functions such as generating useful reports and importing/exporting data to other software modules such as AP or GL may be useful.
You may wish to add on capabilities such as integration with time clock software, ACA compliance management, in-house payroll, or other business solutions.
Passport Software
PBS™ Accounting can help streamline your financials and improve accurate tracking if you are using manual processes or an outdated system.
Our Accounts Receivable software for small business and mid-sized companies tracks money owed by customers, identifies delinquent bills, and helps improve cash flow.
PBS™ Accounting software is a modular system so you can select only the modules you need and add-on as your company grows: Accounts Payable, Accounts Receivable, General Ledger, Check Reconciliation, Payroll, and ACA Compliance.
Call 800-969-7900 to learn more. Or, contact us – we are here to help.
---