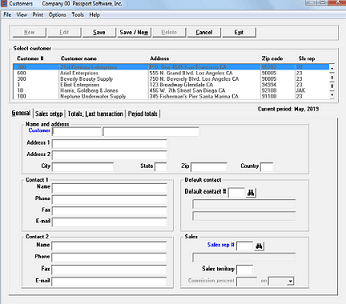 ---
---
AR for Small Businesses and Mid-Sized Companies
Hello again,
This post is for small to mid-sized companies who are vetting new AR software or an Accounting ERP system. We hope you find it useful.
Accounts receivable administrators process AR information, document and update the data, and produce financial records while maintaining accuracy in transactions.
Professional level AR software can consist of a stand-alone module or be part of a comprehensive ERP suite that automates these transactions for better accuracy/error reduction, and automation streamlines data entry and collection to save time and effort.
Some entry level Accounts Receivable Software may be basic or outdated enough to require work-arounds, and it may lack reliable audit trails.
One popular bookkeeping system receives many complaints about reliability, customer service, and is not necessarily comprehensive enough to handle the accounting needs of a growing company.
Streamline
If you are manually tracking with spreadsheets, AR automation will allow you to post financial transactions into your software; you can enter payments received and easily produce reports, balance sheets, and income statements when your AR module is integrated with a full accounting ERP.
Automation will help reduce errors and streamline the process of bank reconciliation with your invoices.
An accounting ERP system will allow you gain visibility of the overall financial health of your company, and AR automation will help streamline invoicing and tracking of overdue bills to help with timely collection of payments.
Accounts Receivable software helps ensure that your data is complete and accurate, and can produce the necessary financial statements for tax reporting.
Professional level accounting software allows you to produce in-depth reporting to gain a birdseye view of your company's overall financial health which helps you make better business decisions for your company.
Passport Software
Our Accounts Receivable software for small business and mid-sized companies integrates with a full accounting ERP which is powerful, affordable, and easy to use.
PBS Accounting is a modular solution, and our expert consultants can help you configure a system to meet your company's unique needs.
We offer excellent training and support and have extensive experience in transition management to help you implement PBS Accounting smoothly.
To learn more call 800-969-7900.  Or contact us – we are here to help.
---