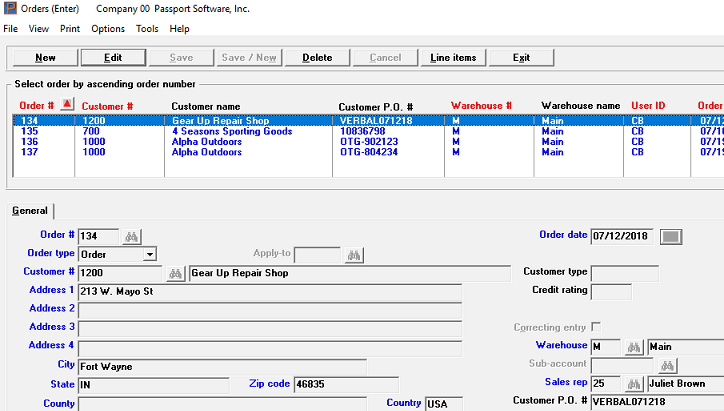 ---
---
Passport Software's OE Module
Hello again,
This post is for distributors who are vetting a new warehouse management system. We hope you find it helpful.
Order entry software helps streamline the processing of a customer order, and automated order management helps ensure speed and accuracy as opposed to manual entry, which may be cumbersome and more prone to error.
An automated order entry system helps distributors efficiently manage their order flow through fulfillment to help increase on-time delivery and customer satisfaction.
Manual Entry
Manual entry may result in increased errors as opposed to automated processing if there are numerous touch points in the OE process.
Human error or backlog can result from a complicated manual process, however order entry software can streamline the process as well as integrate with a full distribution ERP for better inventory visibility.
High volume and velocity can complicate manual entry. Automation can help eliminate errors due to poor communication or overwhelm when processing backlogs.
Integration
Automated order execution and management when integrated with a full Distribution ERP system provides a complete supply-chain management solution.
Automation helps streamline the process from order entry through fulfillment, increasing visibility to ensure on-time deliveries and helping to facilitate a more seamless customer experience.
A complete Distribution ERP solution can integrate with a company's financial processes and provide immediate reporting for better business intelligence and decision making.
Passport Software
Passport Software's Order Entry module streamlines the order management process for distribution businesses, and PBS Distribution may be integrated with a web shopping cart of your choice.
PBS OE provides the flexibility you need to process phone and web orders, email and catalog orders, and also fax orders. Our OE software requires PBS Inventory Control and Accounts Receivable in order to run.
The OE module may be interfaced directly to PBS Sales Analysis and General Ledger through Accounts Receivable and Inventory Control. Optionally integrates with PBS Mobility™.
Call 800-969-7900 to learn more. Or Contact Us – We are here to help.
---