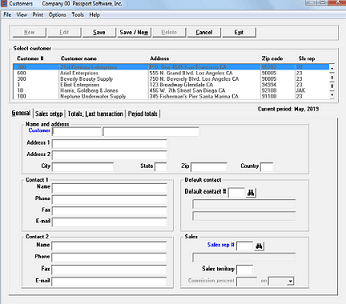 ---
---
PBS™ AR Accounting Software for Small Businesses and Mid-Sized Operations
Hello Again,
Accountants and Admins, this post is for you!  Passport Business Solutions™ (PBS™) is powerful, comprehensive accounting software for small businesses and medium-sized companies.
PBS provides a modular solution that scales to meet your company's unique business needs. We hope you find the following information useful.
Manage Cash Flow
Passport Software's Accounts Receivable software module tracks money owed by customers and identifies delinquent bills and helps improve cash flow. You can create quotes, standard bills, and detailed invoices with unlimited notes to communicate products delivered and services rendered in detail.
This module handles open item as well as balance forward customers with unlimited number of A/R accounts and cash accounts. Features include: Recurring bills entered (edited and selected to later turn into invoices), Quick pasting of standard bills (lists of standard services and/or goods) into invoices, and Cash projection reports.
PBS™ Accounts Receivable accounting software for small business and medium-sized companies provides automatic calculation and posting of finance charges, with edit list and journal. This module handles item drop shipping directly from supplier to customer. Plus, up to 99 user defined statement formats may be created and stored.
Invoicing
AR also provides sales tax entry for individual line items. It allows for reprinting of invoices which have already been printed and posted. This module handles advance payment/deposit acknowledgements and tracking. When invoicing, up to three prepayments may be applied to an AR invoice – commissions due calculation by either booked invoices or fully paid invoices.
PBS™ AR business accounting software can use up to 99 user designed invoice formats. Formats can be defined to work with preprinted forms, plain paper or company letterhead. Envelopes can be printed separately or together with your statements depending on your hardware.
AR produces an invoice history and displays up to 10 description lines per services line item, plus an unlimited notes display for invoices. You can calculate sales taxes using the tax-on-tax method, including Canadian GST and PST with sales tax processing, up to five tax rates per jurisdiction.
Our Accounts Receivable small business accounting software produces an Enhanced Collections Report and View Customer Account, which show current and past due balance, first and last sale date, and last payment date and amount. It automatically handles checks returned for reasons such as non-sufficient funds (NSF).
Bank Charges
Records are reversed, including General Ledger distributions. You can easily enter bank charges as well as charges to the customer for returned checks or other credit problems and have the information applied appropriately throughout the system. An on-credit-hold flag for individual customers with overdue accounts prevents unauthorized sales.
PBS small business accounting software is a comprehensive solution for both small and mid-sized businesses and provides excellent audit trails.
Also, many standard AR reports are available with our accounts receivable accounting software for small business and medium sized companies. AR runs stand alone or optionally interfaces with PBS General Ledger, Job Cost, Or-der Entry, Inventory Control, Check Reconciliation, Point of Sale, Sales Analysis, and PBS Manufacturing.
Learn more about PBS™ accounting software for small businesses and mid-sized companies.  Or Contact Us – We are here to help.
---