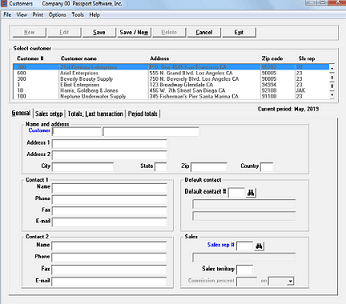 ---
---
Our AR Software for Small Business & Mid-Sized Companies
Hello Again,
Accountants and Admins, this post is for you. Passport Business Solutions™ (PBS™) is powerful, comprehensive accounting software for small businesses and medium-sized companies.
PBS provides a modular solution that scales to meet your company's unique business needs. We hope you find the following information useful.
Manage Cash Flow
Passport Software's Accounts Receivable software module tracks money owed by customers and identifies delinquent bills and helps improve cash flow. You can create quotes, standard bills, and detailed invoices with unlimited notes to communicate products delivered and services rendered in detail.
This module handles open item as well as balance forward customers with unlimited number of A/R accounts and cash accounts. Features include: Recurring bills entered (edited and selected to later turn into invoices), Quick pasting of standard bills (lists of standard services and/or goods) into invoices, and Cash projection reports.
PBS™ Accounts Receivable Solution for small business and medium-sized companies provides automatic calculation and posting of finance charges, with edit list and journal. This module handles item drop shipping directly from supplier to customer. Plus, up to 99 user defined statement formats may be created and stored.
Invoicing
AR also provides sales tax entry for individual line items. It allows for reprinting of invoices which have already been printed and posted. This module handles advance payment/deposit acknowledgements and tracking. When invoicing, up to three prepayments may be applied to an AR invoice – commissions due calculation by either booked invoices or fully paid invoices.
Learn more about our accounts receivable software for small business and mid-sized companies.
Passport Software provides affordable on-premise software that requires a one-time purchase and nominal annual upgrade fee. A cloud service is owned by someone else and requires ongoing payments.
SaaS can be a convenient option, but you may be sure what security is in place, and when your internet is down, you can't use it.
Passport Software's Accounting Software also provides audit trails to reduce the risk of fraud:
"Passport does a great job. Other systems allow you to go back and process prior periods, for instance, to vary expenses in April when you're working in July – Passport gives you a warning on that."
To learn more call 800-969-7900.  Or Contact Us – We are here to help.
---