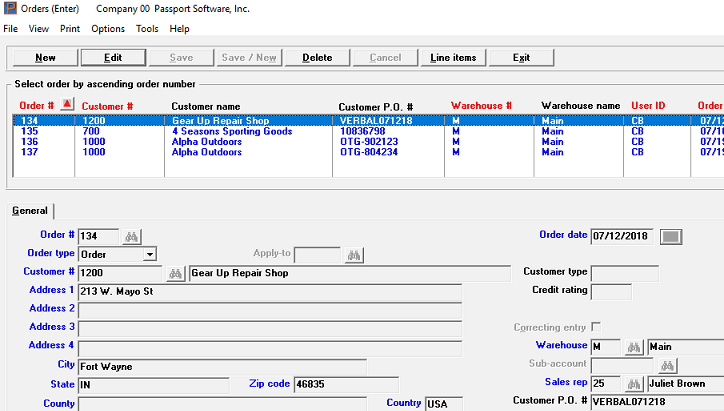 ---
---
PBS™ Order Entry
Hello again,
This post is for distributors who are vetting a new warehouse management system. We hope you find it helpful.
PBS Order Entry software helps streamline the ordering process. Phone orders, email orders, catalog, and fax orders easily flow into the OE module.
Also, our automated order management system can help you streamline the ecommerce ordering process, and real-time reporting helps you gain inventory visibility.
Our Order Entry software requires PBS Inventory Control and Accounts Receivable in order to run.
Accuracy
Order Entry can help eliminate shipping errors and process customer orders quickly and with barcode accuracy.
And, your customers can use PBS Mobility™ from their Android tablet or phone to scan items and place their order with you in seconds providing them with same day local delivery or shipping.
The PBS OE module is part of our Distribution software suite which can integrate with PBS Accounting for a full Distribution ERP system.
OE supports multiple companies, multiple profit centers, and multiple warehouses and vehicles. It also handles Wayfair Sales and Use Tax compliance management for remote seller laws.
Automation
If your sales reps are still writing orders manually, there may be challenges to processing orders due to illegible handwriting and misread sku numbers, submission delays, and wasted effort and resources.
An automated OE system saves time and can help reduce errors – and picking and packing can occur within minutes of an order submission.
Passport Software
Passport Software's Distribution ERP is a modular software solution that fits the unique needs of small to mid-size distribution businesses.
Streamline order fulfillment, better track inventory and prevent loss, increase efficiency, cut down on shipping errors, improve customer satisfaction ratings, and more.
PBS Order Entry software may be interfaced directly to PBS Sales Analysis and General Ledger through Accounts Receivable and Inventory Control. Optionally integrates with PBS Mobility.
To learn more call 800-969-7900. Or Contact Us – We are here to help.
---