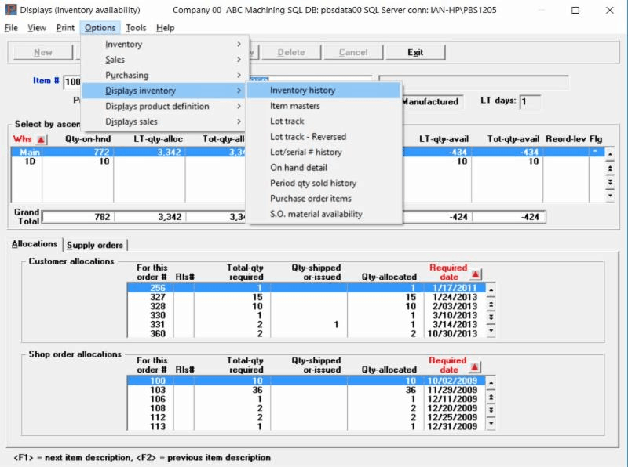 ---
---
PBS™ Manufacturing – Effective Planning Tools
Hello again,
This post is for small and medium-sized manufacturers that are vetting new manufacturing software systems. We hope you find it useful.
Many manufacturers are facing challenges brought on by the pandemic, supply chain disruptions, skilled worker shortages, interest rates and price fluctuations.
Manufacturers may be re-sourcing in order to obtain materials for production more quickly, and an uptick in reshoring has increased demand for some manufacturers.
According to assemblymag.com, "The pandemic-induced collapse of global supply chains has launched a national movement to strengthen domestic manufacturing. Long-term manufacturing growth depends upon U.S. competitiveness and reshoring.
With carefully chosen process improvements, strategies and new technologies, manufacturers can increase capabilities, capacity and innovation, leading to new levels of efficiency and quality control. Building a competitive advantage will unlock more reshoring opportunities."
Maintaining a competitive advantage in the marketplace in the midst of supply chain disruptions depends on optimizing inventory levels to have necessary materials on hand for producing orders on time. An effective manufacturing system can help optimize purchasing activities and inventory levels to facilitate on-time deliveries.
If you are manually tracking, using workarounds such as spreadsheets, or have an outdated system, updating your technology can help improve productivity.
PBS Manufacturing software for small businesses and medium-sized companies can improve visibility, streamline operations, and help provide more throughput with fewer employees.
Purchasing
PBS™ Manufacturing software for small businesses and mid-sized companies can help you better manage purchasing to manage supply chain disruptions and inflation.
– Gain visibility of your purchasing and pricing options.
– Set alternate suppliers in your system and select costing methods, such as cost-plus or cost-based, which can help you prepare for rapidly changing supplier costs.
– Automating purchasing will also help if you are using system workarounds such as spreadsheets to determine the best availability and pricing from various vendors.
Improving supply chain management can help offset disruptions and production material shortages. Having materials on hand when you need them can improve lead times in order to better meet customer demands.
Capacity Planning
If the reshoring trend has increased demand in your shop or you are a manufacturer that needs to plan for capacity constraints, PBS Manufacturing can help.
Due to increased demand, some manufacturers may be expanding staff, purchasing new machines, and even expanding shop floor square footage with construction or buying an entirely new space to house production.
Our manufacturing software for small businesses can help optimize production planning based on demand, production requirements, and plant capacity. You can avoid bottlenecks with better scheduling and allotting the right number of staff for production activities.
Improved visibility can help improve material planning and overall production planning, including labor planning. Better planning tools can help you maintain inventory, improve on-time deliveries and customer service, and help to ensure you have production materials when you need them.
Anticipate Demand
PBS™ Manufacturing Master Scheduling and MRP (Material Requirements Planning) provides planning assistance for producing items or purchasing materials in anticipation of future demand.
The Inventory Management module provides some planning tools, while the MRP module assesses current supply vs. demand and provides notifications for order actions. This module helps optimize inventory levels and provides planning for material requirements and efficient production.
You can plan for actual demand or forecasting or combine the two, and in-depth reporting provides better planning visibility for your shop.
– Set planning rules such as safety stock level, order minimum, maximum, and more
– Set lead times to have materials on hand and ship orders on time
– Create concise reporting with order suggestions to act accordingly
If set up and used properly, the MRP module can help optimize inventory and increase on-time deliveries. This may be difficult if you are trying to do it manually.
Passport Software
If your shop is manually tracking or operating on an outdated system, automation can save time and effort, providing better overall visibility and improving productivity.
PBS Manufacturing software for small businesses and mid-sized operations can streamline your processes end-to-end, improving order management, inventory planning, production scheduling, cost tracking, and more.
Our small business manufacturing software allows manufacturers to better plan, execute, and control production. Effective manufacturing ERP provides a competitive advantage, and you can better manage your supply chain, have materials on hand when you need them, and in-depth reporting provides business intelligence for better decision making.
Effective manufacturing software for small businesses can improve customer service in a competitive marketplace by effectively managing inventory levels to facilitate better production and on-time deliveries. PBS Manufacturing software for small businesses is a modular solution, giving you flexibility to configure a system to meet your unique needs.
We provide top-notch consultation, training, and support to provide you with an affordable, robust manufacturing system to streamline operations and increase profitability.
To learn more about PBS™ Manufacturing software for small businesses and mid-sized operations, call 800-969-7900. Or, contact us – we are here to help.
---