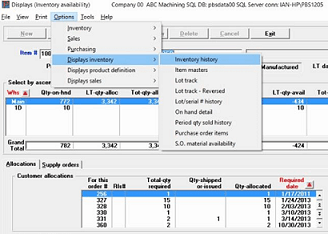 ---
---
Supply Chain Risk Management
Hello again,
This post is for small to mid-sized manufacturers vetting new manufacturing software. The following is sourced from industryweek.com, and we hope you find it useful.
For many manufacturers, global supply chain disruptions have raised concerns about developing better supply chain risk management.
Your operation may have a powerful and comprehensive manufacturing ERP system to streamline inventory management, but if your supply chain is disrupted goods can become scarce or hard to procure.
Risk
To develop a risk assessment you can factor in all "what ifs" regarding potential disruptions in supplier operations (this includes possible global or regional catastrophic events) and the financial impact of these disruptions for your company.
When making purchasing decisions many manufacturers source a single supplier in order to receive a bulk discount on items purchased.  Sometimes this is necessary if the supplier has sole rights to the design of their parts or components.
Other manufacturers are sourcing only from companies overseas, or they have complex supply chains. However, an alternate or backup purchasing plan may help reduce the risk during disruptions.
According to Paul Ericksen, Industry Week's supply chain advisor, "Our country's military understands this and addresses the issue…which essentially requires that all critical parts/assemblies purchased for use in military equipment be sourced with domestic suppliers.
This is primarily to protect our country's intellectual property, but the strategy also provides for other benefits including for responsive order fulfillment."
Ericksen recommends that domestic suppliers be reasonably priced and that you consider two or more suppliers when possible, one local and one from overseas (if that has a cost advantage).
Passport Software
Once you have developed your supply chain risk-reduction strategy, it is important to have a comprehensive Manufacturing ERP solution to manage your purchasing process and aggregate critical operational data.
If you are manually tracking or using workarounds due to an outdated system, automation can help you better track inventory and streamline your purchasing process.
PBS™ Manufacturing ERP for small businesses and mid-sized companies automates your processes from end-to-end. Gain control of your shop floor, increase productivity and throughput – as well as implement better planning for growth and profitability.
Call 800-969-7900 to see if PBS™ Manufacturing is right for you company.  Or contact us – we are here to help.
---