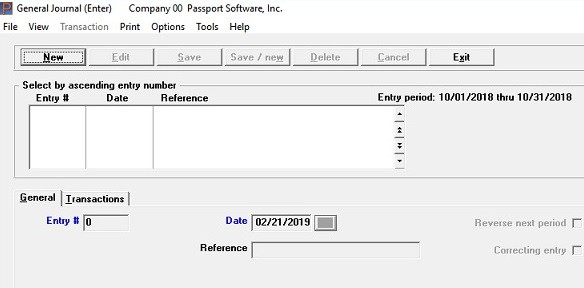 ---
---
Why GL Software?
Hello again,
This post is for small to mid-sized companies who are vetting general ledger accounting software. We hope you find it useful.
General Ledger accounting software categorizes and summarizes your accounting data for financial analysis and provides vital financial information to support better decision making.
The general ledger is the cornerstone of an accounting program, providing a central repository for subledger data or from modules such as AP and AR in your accounting ERP system.
GL contains, organizes and displays accounting data and produces financial statements that can help you analyze the financial position of your company.
PBS™ GL for Financial Analysis
Passport Business Solutions™ General Ledger software allows you to calculate income, expenses, and easily generate reports and financial statements that track budgets for year-end projections.
With PBS GL, you can recreate financials from previous years with access to multiple years of General Journal transactions.
Efficiently handle large numbers (millions) of GL transactions, show budgets and comparatives for previous years, and prepare and print schedules for tax purposes.
A trial balance is a preliminary statement used to ensure the equality of the total debits and credits, and you can print the Working Trial Balance, Trial Balance Reports and the Source Cross Reference (for audit trails).
Flexible year-end closing allows you to extract data into a financial statement based on a selected time span.
Financial Statements
PBS GL software generates custom designed financial statements show profit or loss, assets, liabilities, and equity.
Financial statements can be printed for a set of sub-accounts and a set of cost centers and can be printed in flexible formats which you design.
Passport Software's GL supports multiple companies and cost centers and can produce an overall set of financial statements from a consolidation of multiple companies.
Flexible Reporting allows you to select your date ranges and expert data to Excel and other types of spreadsheets and data packages.
Passport Software, Inc.
With 35 years of business and accounting experience, Passport Software provides comprehensive yet easy to use general ledger software for small businesses and medium sized companies.
Call 800-969-7900 – Or Contact Us.  We are here to help.
---