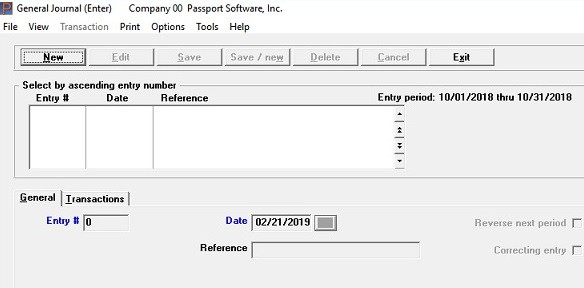 ---
---
General Ledger Software
Hello again,
Passport Business Solutions™ is reliable, professional-level accounting software at an affordable price.
Our General Ledger Accounting Software can help you see the "big picture" of your business for better planning.
General Ledger Module
·       Flexible statement formats summarize and display profits, losses, assets, liabilities, and equities for meaningful reports.
·       Gain a broader perspective: Run Trial Balances and financial statements on data from prior, closed years. Multi-year detail available – fiscal year detail available for viewing/reporting after closing the year.
·       Protect your business: Special reports such as Analysis of Change in Working Capital, Statement of Financial Position, and Expanded Cash Flow empower analysis and planning. Special State and Federal Audit reports available.
·       Accommodates a variety of reporting needs: 4 segment account numbers, Recurring journals, Multi-company consolidations, automated reversing accruals
·       Quick access to AP History: Passport's Navigator allows quick access to view AP Vendor History for the AP transactions for a given GL distribution.
·       Categorizes and summarizes accounting data. Provides comprehensive information for financial analysis and control. Customize financial statements to show profit or loss, assets, liabilities, and equity the way you want it to look. Produces an overall set of financial statements from a consolidation of multiple companies.
·       Supports multiple companies, profit and cost centers and handles up to thirteen accounting periods. General Ledger account number structure allows for up to four segments with as many as 17 characters. Users can recreate financials from previous years with access to multiple years of General Journal transactions.
·       A Multi-Year Trial Balance Detail feature is also available for previous fiscal years, or any time period you choose. Run summary or detailed financial analysis on transaction activity between any two dates.
Learn more about our General Ledger Accounting Software.
Passport Software provides affordable on-premise Accounting software that requires a one-time purchase and nominal annual update fee.
With 30+ years of experience, we've implemented several thousand installations that are supported by our channel of North American and International Partner professionals.
Call 800-969-7900 to learn more about how our GL software can help your business.  Or Contact Us – We are here to help.
---