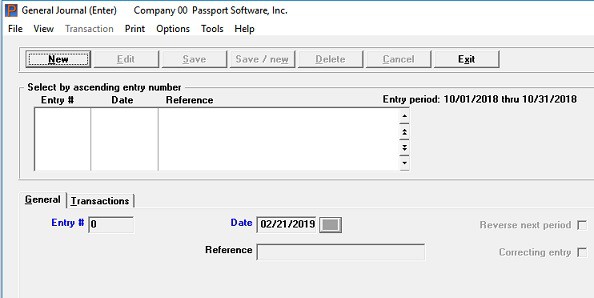 ---
---
PBS General Ledger Software
Hello again,
This post is for small to mid-sized businesses that are vetting new accounting software. We hope you find it useful.
Comprehensive and efficient accounting processes establish a solid foundation for companies in order to provide financial visibility.
Visibility is useful for financial analysis for effective decision making as well as maintaining a budget.
Entry accuracy and immediate access to comprehensive, up-to-date data are key components of effective bookkeeping.
Bookkeeping is a crucial accounting activity and provides a solid foundation for other accounting processes such as financial analysis, reporting, and tax preparation.
GL Automation
General ledger automation aggregates various ledgers, such as AP and AR, so accounts can be summarized and validated in order to produce relevant reports and to provide financial statements.
A general ledger system assembles and summarizes data to provide a bird's eye view of the financial status of your business.
Automation of your GL system saves time and effort, helps reduce error and avoid redundant entries compared to manual tracking, and results in a more accurate view of your business overall.
Cash flow
GL keeps track of funds and accumulated revenue and expenses in order to track a company's cash flow.
Company financial transactions are imported into your general ledger software. Information from payables, receivables, inventory as well as other functions such as payroll are recorded.
Aggregation of liability and asset data can be displayed in the general ledger to obtain a trial balance for reconciliation.
A double entry system is a common bookkeeping method provides fields for revenue and expenses to be tallied and reconciled in order to produce visibility of a company's cash flow and overall financial health, and supports GAAP-standard accounting practices.
Double entry is part of an overall accounting cycle, which is comprised of the repeated steps needed to record and process transactions and provide financial reports.
Different companies have varying accounting cycles and adjustment periods.
Passport Software
PBS Accounting is a modular system allowing you to purchase only the modules you need for your unique business needs.
Passport Business Solutions™ General Ledger accounting software categorizes and summarizes your accounting data providing comprehensive information for financial analysis and control.
Passport Software's General Ledger accounting software may be used either independently or interfaced to the Passport Business Solutions™ Accounts Receivable, Accounts Payable, Payroll, Check Reconciliation, Inventory Control, Job Cost and/or PBS™ Manufacturing.
To learn more call 800-969-7900. Or contact us – we are here to help.
---