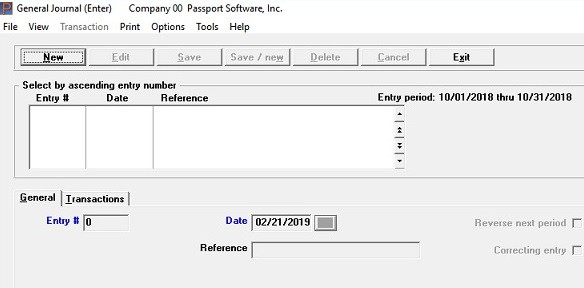 ---
---
Passport Software's GL Accounting Software
Hello again,
This post is for small to mid-sized companies that are vetting a new accounting system. We hope you find it useful.
General ledger accounting software provides a database that stores a company's financial transactions which are grouped by assets, expenses, liabilities and revenue.
Each month the transactions are closed out and a trial balance is used to provide a bird's eye view of a company's assets.
GL software can provide comprehensive financial reporting for business analysis if it is integrated with AR and AP software.
Using an automated system helps maintain accurate data, avoids redundant entry, and saves staff time and effort compared to manual tracking or using an outdated system.
Double-entry
General ledger accounting software uses the double-entry method whereby transitions are balanced based on assets and liabilities entered into the system – each entry has a debit and a credit field.
AP and AR transactions are integrated into the general ledger system to create a trial balance based on credits and debits.
GL gives you overall visibility of your company's financial activities and helps you balance your transactions, and automation helps ensure accuracy and easy data access for reviewing your data.
Features
Robust general ledger software provides comprehensive reporting for better financial decision making.
When integrated with a full accounting ERP, GL allows you to import data from other modules, saving time on redundant entry and helping avoid errors.
A fully integrated accounting system allows for comprehensive data accessibility. This will help streamline your accounting processes to gain financial visibility for better reporting to assist in analysis and decision making for you company.
To learn more call 800-969-7900. Or contact us – we are here to help.
---