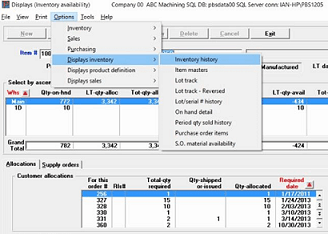 ---
---
For Partners – PBS™ Manufacturing Email Content
Hello again,
This post provides reference material from the 2018 Summit's "Quick and Easy Marketing Tips," focusing on PBS™ Manufacturing ERP for small businesses.
The following email content, drop-off letter, and phone script use questions in a manner suggested by the book Proactive Selling by Skip Miller.
Questions are placed in the email subject line, in the drop-off introduction letter, and even the phone message script to increase engagement.
Email example
[Subject Line:] I spoke with Patti (Trader Joe's gift bag) – Are you 100% happy with your current Manufacturing ERP system?
Hi John,
I hope you enjoyed the gift bag with Trader Joe's snacks that Patti passed along to you.
As you can tell from the brochure, Passport Software is a local company that has been providing manufacturing software for over 30 years across the US – for both the financial and operational sides.
I'm not sure if you're happy with your Manufacturing ERP system, but have you experienced any of these challenges with your current system?
·         The system wastes time, effort, and human resource – due to manual or redundant entry
·         Production/profitability is held up due to lack of visibility
·         No ongoing visibility of profit margins – instead, one GL report at end-of-month/year
·         Lack of comprehensive real-time reporting to facilitate expansion
·         Financial commitment to a new and unnecessarily large system is unappealing
If so, it might be worth it to see if we can help.
Would you like to schedule a 15-minute call to get more information?
Drop off Letter – Cold Call
Hi Jennifer,
You are probably extremely busy with a dozen priorities on the table.
I hope you find the following information useful.
As you consider exploring a new ERP solution, we can help address some common concerns:
Leverage – Can a new ERP solution meet your array of unique needs?  Will it help solve problems across-the-board?
Time – What would it mean to reduce the time and effort on your current system? Will a new system solve challenges on the shop floor and facilitate expansion?
ROI – How fast is the ROI? Is your consultant experienced, knowledgeable and informative – allowing you to assess the ROI on a possible investment?
Risk – What are the major risk factors to avoid during the process – will implementation be both timely and easy?  How can your vendor ease change management?
Your Reputation – How will this system make you look to your clients, will it speed up fulfillment and enhance customer service?
Our manufacturing specialists are available Mondays 7:30am-4pm, Tuesdays 7:30am-10:30am, and Fridays 12 noon-3pm.  Of course, we can also schedule other times at your convenience.
30 Second Phone Message – Script
Hi TJ, this is Alix Hager with Passport Software.
I left the gift bag with Trader Joe's snacks last Friday that Nina passed along to you.
We're a local company and have provided manufacturing software for 30 years.
Our job is to help companies gain visibility and improve their competitive position.
Many companies have asked us – "How can they stop wasting time, effort, and gain more control of their shop floor to expand?"
If you're not happy with your current Manufacturing ERP system, would you like schedule a time to get more information?
---