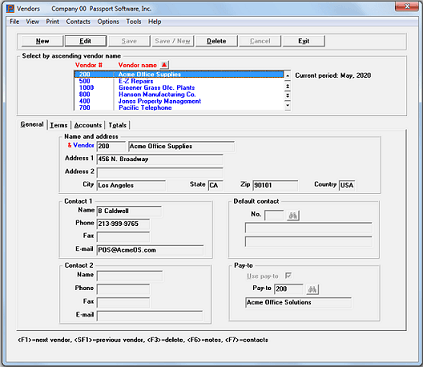 ---
---
Passport Software's On-Premise Accounting and Payroll Program
Hello again,
The following is sourced from krebsonsecurity.com about a recent ransomware attack on the cloud hosting provider iNSYNQ.  We hope you find this information useful.
One of the benefits of an on-premise accounting and payroll solution is that you are able to control and change security measures, including physical access to your computers and server any time.
With cloud computing, your data is essentially hosted on someone else's computer, and cloud infrastructure can be a target for hacking.
iNSYNQ
"Cloud hosting provider iNSYNQ says it is trying to recover from a ransomware attack that shut down its network and has left customers unable to access their accounting data for the past three days.
Unfortunately for iNSYNQ, the company appears to be turning a deaf ear to the increasingly anxious cries from its users for more information about the incident.
A message from iNSYNQ to customers.
Gig Harbor, Wash.-based iNSYNQ specializes in providing cloud-based accounting software and services.
In a statement posted to its status page, iNSYNQ said it experienced a ransomware attack on July 16, and took its network offline in a bid to contain the spread of the malware.
'The attack impacted data belonging to certain iNSYNQ clients, rendering such data inaccessible,' the company said. 'As soon as iNSYNQ discovered the attack, iNSYNQ took steps to contain it. This included turning off some servers in the iNSYNQ environment.'
iNSYNQ said it has engaged outside cybersecurity assistance and to determine whether any customer data was accessed without authorization, but that so far it has no estimate for when those files might be available again to customers.
Meanwhile, iNSYNQ's customers — many of them accountants who manage financial data for a number of their own clients — have taken to Twitter to vent their frustration over a lack of updates since that initial message to users."
Advantages of an On-Premise Accounting and Payroll Solution
With our on-premise accounting software and payroll program, you have control over your software and your server. There are no on-going monthly payments to have access to your data.
Even when the internet is down, you can still conduct business.
Call 800-969-7900 to learn more about our accounting and payroll software for small businesses and mid-sized companies.
---