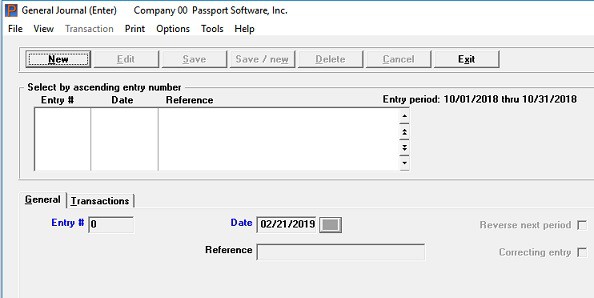 ---
---
Passport Software's GL Software
Hello again,
This post is for small to mid-sized companies who may be vetting general ledger accounting software. We hope you find it useful.
Benefits
GL Software provides current data to help track the financial health of your company, so you can make more informed business decisions.
Using GL you can create accounts and make journal entries, as well as set up budgets.
Automation makes closing the General Ledger for the month/year easy.
Reporting
General Ledger accounting software helps you monitor cash flow with current data about your revenue and expenses.
Real-time reporting tracks your cash flow in order to help you make adjustments to improve profits.
GL reports and financial statements can also serve as documentation for banks, creditors and the IRS.
Also, having access to current data makes forecasting possible business scenarios easier.
Passport Software's General Ledger Module
Passport Software's GL module provides the following and so much more:
·         Flexible statement formats summarize and display profits, losses, assets, liabilities, and equities for meaningful reports.
·         Gain a broader perspective: Run Trial Balances and financial statements on data from prior, closed years. Multi-year detail available – fiscal year detail available for viewing/reporting after closing the year.
·         Protect your business: Special reports such as Analysis of Change in Working Capital, Statement of Financial Position, and Expanded Cash Flow empower analysis and planning. Special State and Federal Audit reports available.
·         Categorizes and summarizes accounting data. Provides comprehensive information for financial analysis and control.
·         Supports multiple companies, profit and cost centers and handles up to thirteen accounting periods.
With 35 years of business and accounting experience, Passport Software provides comprehensive yet easy to use general ledger accounting software for small businesses and medium sized companies.
The GL module is part of Passport Software's accounting software solution. PBS™ Accounting is a modular system, so you can purchase only what your company needs.
Call 800-969-7900 – Or Contact Us.  We are here to help.
---