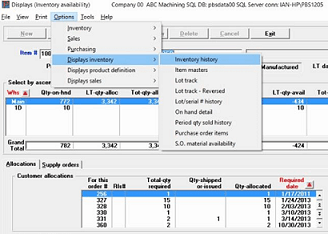 ---
---
Underperforming Products – PBS™ Manufacturing
Hello again,
The following is part four of a 4-part series about increasing profitability with job costing. We hope you find it useful.
Underperforming products can hurt a company's bottom line.  Increasing visibility before, during and after production allows businesses to use this information to discover underperforming products.
To meet overall financial goals, a company can adjust underperforming products as well as over performing products. In order to adjust margins, businesses can improve the manufacturing process or increase the price.
PBS™ Small Business Manufacturing Software, for small to mid-sized companies, can help you gain visibility of your actual profit margins in order to make adjustments.
Product Market Positions
At the end of the day, PBS™ small business manufacturing software allows manufacturers to make better decisions on product market positions. Some companies we have helped actually dropped product lines when they could not figure out how to make them profitable.
One such company was constantly running behind. They produce signs and always had to pay a premium to bring in the aluminum and steel for production. But they had a really small division within organization that was extremely profitable. PBS Manufacturing helped them identify this and allowed them to do something about it.
What they did was downsize drastically. This was a big decision and was unusual, but the reality was that they couldn't make money and were not in a position financially to change.
The entire business was transformed. What was essentially a 4-person division became the main company, which was profitable.
Offline Costing
So many shops are doing costing offline, and are working way harder than they need to. Most of this information is data that is captured and brought into one place.
PBS small business manufacturing software gives manufacturers the ability to define their products within the system, including routings. The system then calculates cost rollups, and that information can be analyzed.
This is a huge first step for a lot of people. This costing process works for various types of manufacturers such as make to order, or even a distributor with light assembly.
If labor represents ½% – 2%, maybe checking labor costs is overkill. However, when labor begins to factor in, PBS Manufacturing can help.
Overall Cost Picture
Passport Software helped a distributor with light assembly who sells assembled products as a value-added function.
This function gives them a nice chunk of change because they can charge more with their labor, which is basic, but calculating it had helped their company.
Planning is a benefit for those assemblies, in order to have what you need when you need it – so it was a dramatic improvement in their cost picture.
If a business owner views the general ledger monthly, quarterly or yearly, it's too late to grab product costs and increase your bottom line. PBS™ Small Business Manufacturing Software can help you gain visibility of your overall cost picture for better decision making and operations planning.
To learn more contact your Partner or Dave Dorsey at 800-969-7900 x145. Or Contact Us – We are here to help.
---