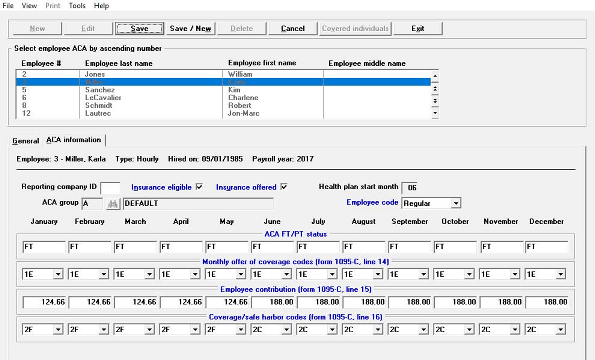 ---
---
ACA Software and In-house Payroll Solution Streamline Processes
Hello again,
This post is for Applicable Large Employers (ALEs) required to comply with the Affordable Care Act. We hope you find it useful.
Compliance management is an important area that is often handled by Human Resources professionals, administrative professionals, or company owners. It is important to have an in-depth understanding of the relevant laws and regulations to avoid fines and penalties.
One area that can be challenging to manage is Affordable Care Act compliance for ALEs, especially if employees have fluctuating hours, work at multiple locations, or perform seasonal work. Tracking hours worked correctly is crucial for knowing when to make appropriate offers of coverage.
ACA Software Simplifies Compliance
Manual data tracking can become prone to errors depending on how complex ACA compliance management is for your company, and data accuracy is necessary for avoiding penalties.
Passport Software's comprehensive ACA software streamlines the entire data-management process to help ensure compliance and avoid potentially costly penalties.
– Our IRS-certified ACA software and services streamline the entire compliance process year-round
– Track employee hours, run reports to determine eligibility, and ensure offers are considered affordable under IRS-criteria
– A company may be subject to an IRS audit, and our ACA software and Full Service option aggregate data for better documentation
– Our friendly experts can walk you through the entire process; not understanding your compliance obligations can lead to costly penalties
Our ACA software is updated annually to keep up with regulatory changes, and we provide comprehensive expert support and training to help you maintain compliance.
On-premise Payroll
Our optional on-premise payroll management system reduces time and effort spent on manual payroll tracking and is easy to use. Perhaps you are overpaying for an outside payroll service and doing most of the work yourself on behalf of your payroll provider.
We make tracking and managing payroll information and ACA compliance data easy. PBS™ Payroll provides ongoing ROI due to cost savings on an outside payroll service and integrates with our ACA solution.
PBS™ Payroll maintains employee data, calculates taxes, handles deductions, prints payroll checks, and eliminates the process of manually preparing tax information.
– ACH Direct Deposit and email paystubs to employees (encrypted). Deposits can be made to multiple financial institutions, and each employee can have amounts directly deposited in up to fifteen bank accounts.
– Handles hourly, salaried, and non-employee (1099 type) pay on daily, weekly, bi-weekly, semi-monthly, monthly, and quarterly pay frequencies.
– You can make after-posting corrections which provides the flexibility to adjust wages, deductions, and other check related items.
– Provides the ability to cancel a full batch of checks and then re-issue them. (Doesn't happen often but when it does this is a life saver.)
PBS™ payroll helps ensure that you maintain compliance with federal, state, and local tax jurisdictions. And, it optionally integrates with PBS™ Accounting for a full accounting ERP solution.
Passport Software
HR managers, administrative professionals and company owners juggle many duties, and having the right technology can help streamline compliance management. Our IRS-certified ACA software simplifies the entire compliance process, and we provide optional proxy submission for our software customers.
Our ACA Full Service option is even easier – just provide a spreadsheet with employee data, and we do the rest, including filing. We also provide penalty response services and have helped many companies avoid or drastically reduce penalties.
Our ACA solution optionally integrates with PBS™ Payroll to simplify the entire payroll process and provide ongoing ROI due to cost savings on an outside payroll service. Our goal is to help our customers with the effective use of technology to streamline their processes and improve profitability.
To learn more about how our ACA software and services can ease the burden of compliance, call 800-969-7900. Or, contact us – we are here to help.
---