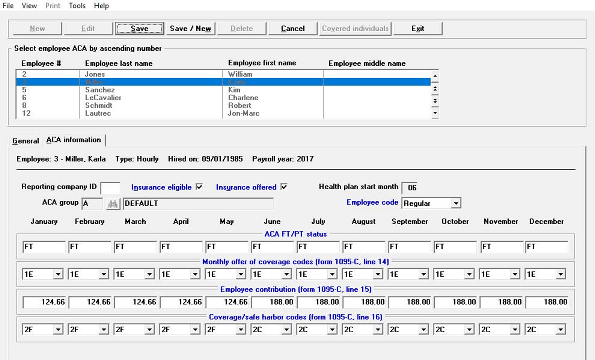 ---
---
Hello again,
This post is for Applicable Large Employers (ALEs) required to comply with the Affordable Care Act.  We hope you find it helpful.
ACA software can take the sting out of managing the details of ACA compliance.
In companies that are not big enough to have a whole HR department, but who are large enough to need to comply with the ACA regulations, the work of compliance often falls on a multi-talented, over-worked Payroll administrator.
Preparatory Work
Even if the company outsources payroll fulfillment to a service company, all the preparatory work (as well as the review for discrepancies and updates/changes) is still done by that individual.
The details of schedules, schedule changes, new hires, Safe Harbor periods, the approaching need of and fact of an offer of affordable insurance coverage, and whether it is accepted or not are part of the traffic that crosses that busy desk.
"Detail-oriented" and "Able to multi-task" are often included in the job description for a position that manages payroll and ACA compliance.
"Magician" might as well be in there as well for a restaurant or hospitality operation that needs to comply with ACA.
Challenges
Shifting schedules, employees filling in for each other, as well as different pay rates for different jobs done within a single shift make this industry's payroll and ACA management particularly challenging.
Adding to the challenges are the penalties. Early on, there was leniency if a sincere, even if inaccurate, effort to file could be demonstrated. No more.
So, ACA software for employees managing several payroll and HR tasks takes on a new value.
Streamline
To be able to streamline the information review process – to easily be able to display, for example, that this employee needs an offer, this one is approaching full time, this employee has had an offer extended – all in one easy-to-use software would be helpful.
And, considering the penalties, comprehensive ACA software can really help take the sting out of managing ACA compliance.
Passport Software
Passport Software provides IRS-certified ACA software that simplifies compliance and reporting year-round.  We are also IRS-approved for optional proxy submission.
Our ACA Software has a simple employee import for basic information and tools to automatically generate the ACA data in a fraction of the time, compared to other ACA management providers.
We also provide ACA Full-service.  Just provide a spreadsheet with employee information, and we do the rest.
Also, our Food Service Payroll and Affordable Care Act Software simplifies payroll processing and ACA compliance for restaurants and food service operations.
To learn more call 800-969-7900 or contact us – we are here to help.
---