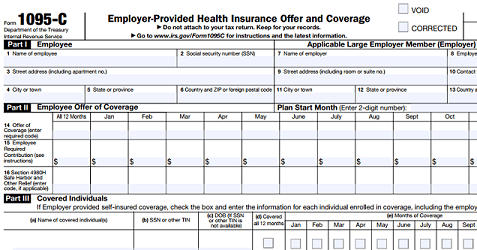 ---
---
ACA Reporting for ALEs
Hello again,
This post is for Applicable Large Employers (ALEs) required to comply with the Affordable Care Act. We hope you find this helpful for your ACA Reporting.
The following information is quoted from npr.org:
Short-term Policies
"People who don't get insurance through their jobs will now be able to buy short-term policies that may be cheaper than Affordable Care Act coverage. These plans won't have to cover as many medical services and are exempt from covering people with pre-existing conditions.
The departments of Health and Human Services, Labor and Treasury announced new rules Wednesday that make it easier for consumers to replace ACA insurance with these short-term policies.
The policies were originally limited to three months, but they can now last up to a year, and be renewed to last as long as three years.
Short-term plans don't have to meet the Affordable Care Act's consumer protection and coverage requirements, so many will not cover services such as mental health care or prescription drugs. And insurance companies can deny customers coverage on these plans if they have a pre-existing medical condition and charge people more if they are likely to need medical care.
Not Equivalent Coverage
'These policies are different from those offered on the exchange,' said James Parker, a senior adviser for health reform at HHS, in a conference call with reporters. "We make no representation that it's equivalent coverage."
Parker said a short-term policy may cost as little as $124 a month, compared with an average $393 for an unsubsidized policy that meets all the ACA coverage requirements.
'If you start out healthy so that you get covered, but then later get a diagnosis, they can drop you at the end of the contract term,' says Sabrina Corlette, a research professor at Georgetown University's Center on Health Insurance Reforms.
The Affordable Care Act requires insurance companies to offer 10 essential health benefits including such things as maternity coverage and mental health care. It also requires insurance companies to cover anyone who wants to buy a policy and charge the same premium to everyone in a community.
The goal was to ensure that everyone has access to quality health coverage without discriminating against those who have pre-existing medical conditions."
Passport Software's ACA Reporting Services
Although consumers can replace ACA insurance with short-term policies, companies with 50+ full time equivalent employees must remain compliant with the Affordable Care Act.  ALEs must continue to offer qualifying coverage.
Passport Software's ACA Reporting Software can help simplify tracking and reporting throughout the year.  We also offer ACA Full-Service.  Contact Us – We are here to help.
---