Why ACA Compliance Software?
Reporting services and cloud solutions fill out and submit forms, but they may not monitor compliance throughout the year to prevent costly errors.
Many of our clients have described manual entry and tracking as "painful" and a "headache." In addition, costly mistakes made during the year cannot be corrected after the fact.
With Passport Software's ACA Compliance software, you can simplify reporting and manage Affordable Care Act employee data year-round.
Monitor eligibility year-round, determine affordability
Accurate data import, capture and data reconciliation
Automation for faster filing and reporting activities
And, our ACA software is cost-effective.
Forms-only Solutions
Affordable does not mean "the cheapest." Online forms are a lower-end-priced retail product without much comprehensive support. These forms-only solutions still require that employee data be gathered and monitored during the year.
Passport ™ Affordable Care Act Management Software drastically reduces manual effort. Time saved on manual entry may actually pay for a comprehensive software solution that simplifies reporting – and manages ACA related employee data year-round.
Cloud Services
Some cloud services may only provide end of year reporting, rather than manage compliance throughout the year. Passport Software's ACA software provides employee monthly status updates that let you know when employees are trending towards full time.
Our ACA Compliance software offers a one-time licensing fee, while a cloud solution requires ongoing payments. With a nominal fee for yearly software updates, our ACA compliance software may be more cost-effective than a cloud solution.
Payroll Services
For those using ADP or other payroll services for Affordable Care Act data management and reporting, the costs can add up over time.
Our ACA compliance software includes a payroll software solution, and choosing to activate our optional payroll feature allows paychecks to be processed in-house.
This can provide ongoing ROI in as few as 6 months due to cost-savings with an outside payroll service – in addition to simplifying Affordable Care Act data management year-round.
Passport Software's ACA Compliance Software – Company management screen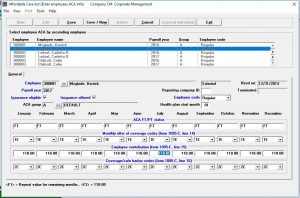 Passport Software – ACA Full Service
Our ACA compliance software is IRS-certified, and we are also IRS approved to submit on your behalf with optional proxy submission.
While our Affordable Care Act software may be more cost effective than other solutions, we also offer a Full-Service option for those who want a service to handle reporting and year-round compliance.
Passport Software's ACA Full Service is simple – just provide an employee spreadsheet and we take care of the rest!
Customer Support and Consulting
At Passport Software, we pride ourselves on our top-notch customer support.  We have been helping small and mid-size businesses for 30+ years to streamline their business processes.
We also offer ACA consulting for those companies with questions about complying with the Affordable Care Act. While we do not offer legal advice, our friendly expert can provide answers to help point you in the right direction.
We are happy to answer any questions about our ACA Software and Services.  Contact Marti at 800-969-7900 ext. 103.