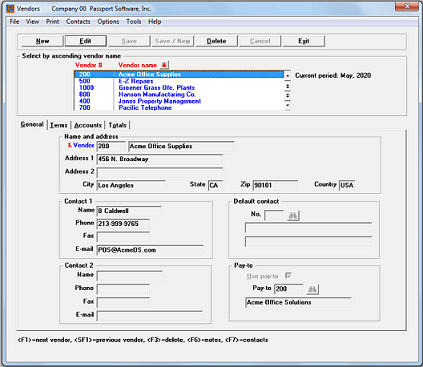 ---
---
PBS™ Accounts Payable
Hello again,
This post is for small to mid-sized companies who may be vetting an accounts payable system.
The following is sourced from Fundera.com.  We hope you find it useful:
"No matter what industry you're in, you're likely paying someone for something in order to keep your business running.
Altogether, those expenses—most specifically the ones purchased on credit—create a line item on your balance sheet known as 'accounts payable,' and the management of AP is one of your most crucial tasks as a small business owner.
What Are Accounts Payable?
AP refers to all the money a business owes vendors and suppliers for the purchases of goods and services made on credit.
Just to clarify, a vendor can be any individual or company that provides supplies, equipment, or services required for the operation of your company.
For example, a retail jewelry shop's vendors may include wholesale jewelers, while a printing shop may count their ink supplier among their most crucial suppliers.
Balance Sheet
On your balance sheet, the total sum owed to your vendors are listed together as a 'current liability.'
Along with your accounts receivable, accounts payable is one of the greatest factors determining your business's cash flow.
Clearly, it's important that you have an accounts payable filing system in place. That way, you'll always know how much you owe all your suppliers, and that you make payments on time, every time.
Failure to properly manage accounts payable can lead to late payment penalties, damaged supplier relationships, and even business failure that could have been avoided if oncoming cash flow issues had been foreseen and properly managed."
With 35 years of business and accounting experience, Passport Software provides comprehensive yet easy to use accounts payable software for small businesses and medium sized companies.
The accounts payable module is part of Passport Software's accounting software solution.
Call 800-969-7900 – Or Contact Us.  We are here to help.
---