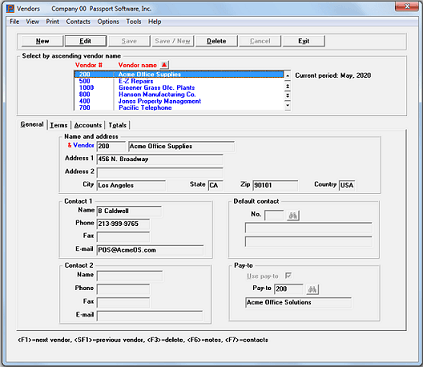 ---
---
Accounting Software for Your Small to Mid-Sized Company
Hello again,
This post is for small to mid-sized companies who may be vetting a new accounting system.  We hope you find it useful.
Owners and managers of growing companies often have to do accounting work late after business hours. Reliable, user-friendly software that helps you work as efficiently as possible lets you can get back to what you really care about – your business.
Flexible and Comprehensive
Accounting software for small business should be flexible. It should support how you do business, not force you to change to fit how it works.
It should be comprehensive enough to support generally accepted accounting practices (GAAP-compliant). It should protect your business with professional level standards such as audit trails, security measures like user access controls, and other easy-to-use, but meaningful safeguards. No one wants to be another financial abuse statistic.
Starting out, you might not need a full financial suite. Accounting software for small business that offers a modular design is a helpful option. You can begin with only what you require to get started and then add additional functionality if and when needed.
On Premise Software
Where you choose to run your software is important to consider. On premise is an option that reduces interruptions to data access and leaves you in complete control of who owns your data. Your data is yours.
Accounting software for small business of any kind will require support at some time. Being able to establish a more personal relationship with your support provider can have a big impact. Your support provider should be able to understand how you run your business as well as know the software.
Technology advancements, federal or state compliance reporting changes and other factors cause accounting software for small business to need updates. No one wants to be confronted with penalties or down time that could have been avoided. But changes to your accounting software should be made gradually to reduce disruption.
When it's time to make a change, Passport Business Solutions™ is comprehensive,  user-friendly accounting software for small business.
---