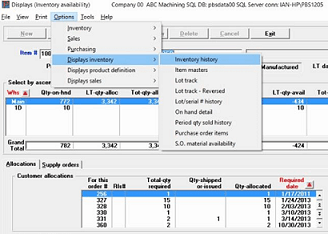 ---
---
PBS™ Manufacturing Software for Small Businesses Increases Visibility
Hello again,
As a company grows, its manufacturing system needs to be able to support expansion by increasing visibility, managing resources effectively, and strategic business reporting.
Many manufacturing companies are using spreadsheets to track and store information or may have outgrown their current manufacturing software system.
PBS™ Manufacturing
With data stored and integrated in a central system, it becomes easy to manage inventory, sales and shop orders, purchasing, materials planning, costing and more.
PBS Manufacturing software for small businesses and mid-sized companies can manage manufacturing operations as well as the financial side of the business.
PBS Manufacturing is a powerful and affordable solution that is modular, so more options can be added as your business grows.
Save time by eliminating multiple spreadsheets and redundant data entry, as well as gain visibility for strategic insight to improve your process.
Inventory Management
The Inventory Management (IM) Module is the cornerstone of PBS Manufacturing software for small businesses.  Inventory plays a crucial role in managing cash flow, and IM helps you gain control of your shop floor and manage inventory for "just in time" fulfillment.  Have the materials you need when you need them, and avoid overstocking to free up cash flow.
To learn more contact Dave Dorsey at 800-969-7900 x145.  Or Contact Us – We are here to help.
---