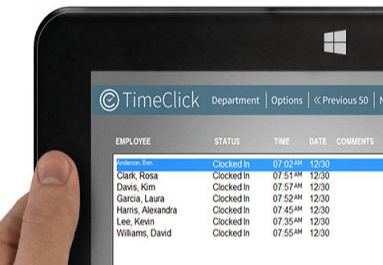 ---
---
Time Tracking Software – TimeClick
Hello again,
We would like to thank Samantha W. at TimeClick® for this guest blog post, and we hope you find it useful.
Time tracking is one of those necessary tasks that while vital to the company, can take unnecessary amounts of money off the bottom line and consume time and energy. But time tracking doesn't have to be a negative, nagging experience. There are software systems on the market that are effective tools in making employee time tracking and payroll a piece of cake.
TimeClick is one of those effective systems. It is a powerful, intuitive software that saves time and reduces hassle in payroll while increasing the bottom line of its users. Let's take a look at how.
Accurately track employees' time
Accurate time tracking means accurate pay. If employees are paid accurately, your bottom line increases because you aren't paying for rounded, padded times. The time an employee comes and goes is accounted for with to-the-minute accuracy.
Prevent time theft
Time theft is rampant in the business world. It can be either intentional or unintentional. A secure, accurate time tracking system like TimeClick turns that around so deliberate or not, time theft becomes nearly impossible. This saves businesses hundreds of dollars each pay period. For more information on time theft, read more here.
Employee time totals at the click of a button
TimeClick allows administrators and payroll managers to run easy, accurate reports with employee totals at the click of a button. TimeClick reports are simple, easy to read, and calculate all the employee hour totals for you so once you run the report you're ready to process payroll.
Payroll integration
The TimeClick hours worked data flows directly into PBS Payroll. This saves extra time spent typing in totals and replaces it with a sleek integration process.
TimeClick also provides direct integration with QuickBooks Pro. If you use a different payroll system, the reports can export employee hours to .CSV which can be imported to most payroll systems. Reports may also be saved as PDF or XPS documents to be printed or emailed.
Simple, intuitive software
If you haven't noticed, there is an emphasis on TimeClick being simple and easy to use. TimeClick is intuitive for both employees and administrators. Employees clock in and out with a couple clicks and their secure password. Administrators manage their pay period preferences, modifying times, tracking accrued time, and more in a clearly defined, password protected administration mode.
Affordable, one-time cost
Cloud-based time tracking solutions usually charge per month and per employee which adds up considerably over time. TimeClick is an on-premises time tracking solution. This means there is a one-time cost upfront for the software and then an optional cost for an annual support plan.
All that money that would be sent to a cloud hosting company can be put back in your pocket if you own the software.
U.S. based support team
Time is valuable. As a busy manager you should not have to spend hours waiting on hold to have a quick, urgent question answered. It shouldn't take more than an hour to get an email reply to your support request when your employees need to be clocking in and out. TimeClick's support team is based in Logan, Utah. If your computer crashes and TimeClick is down or you need to move your database, you can get immediate help from friendly professionals.
30-Day Free Trial
Instead of jumping into a software solution with a leap of faith and your credit card, you can try TimeClick for yourself. Test it, obligation free, to quickly see if TimeClick will be a good fit for you and your employees. A 30-day, fully functioning trial is ready when you are.
TimeClick's priority is to help small to medium-sized businesses improve their time tracking experience. Our goal is your goal: to increase your bottom line and make tasks like time tracking as good as possible.
We hope you found this post helpful –  Learn more about TimeClick time tracking software, which easily integrates with PBS™ Payroll.
---