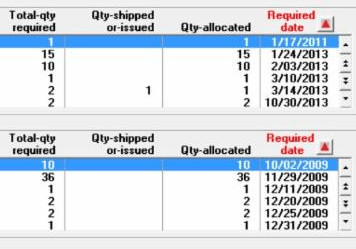 ---
---
Why "ASAP" Doesn't Work in Production Scheduling
Hello again,
This post is for small and medium-sized manufacturers that are vetting new manufacturing software systems. We hope you find it useful.
Manufacturing production scheduling is the process of coordinating all production activities related to completing a particular product or order.
Effective small business manufacturing software can help schedule your production accurately based on information such as delivery date, inventory on hand and/or on order, material requirements, production times for each process, etc.
A production schedule can be developed that coordinates the routing through departments, the production actions and the inventory needed to produce an item or to fulfill an order on time and in budget.
If you are manually scheduling or using outdated ERP software, implementing an effective manufacturing system can help you better manage the entire production process.
Producing Finished Goods
Producing a finished good depends on several factors. Beginning when Sales takes an order that provides the customer with a delivery date, several important points come into play:
Having the correct inventory on hand in time to meet the customer's delivery needs.
No inventory or not enough inventory or the wrong inventory on hand can tie up delivery of a customer order for days or weeks. Even a tiny part out of stock is sufficient to stop production.
So having a way to track inventory quantities, on hand and on order with anticipated delivery dates, and to be able to set minimum stock levels on key items that trigger alerts is key.
Scheduling the production resources – both human and machine, so that they are ready at the same time to be able to create the item or order in a timely fashion and with a minimum of wasted time standing around waiting for a machine to free up.
Trouble in either of these areas creates an almost immediate reduction in profits and can result in the loss of customers. The reverse is also true. Improvements in either or both of these area result in an almost immediate increase in profits. Customer satisfaction and repeat orders also increase.
PBS™ Manufacturing software for small businesses and mid-sized companies helps streamline production planning. Often, when better planning is introduced, companies find they can actually reduce their lead times making them more competitive.
Benefits of Production Scheduling
When ASAP is used as a time for back ordered inventory, the rest of the operation goes into a kind of suspense. Scheduling of personnel and machine time becomes impossible and visibility of when inventory is required to meet your demand is eliminated.
Guessing with an ASAP delivery date, and proceeding to schedule other work creates a situation where the original order, even if the missing inventory shows up quickly, may have to be delayed even further so that the other work can be completed.
Or, the work in production, scheduled while waiting for the other inventory, has to be interrupted while the original work gets done. Either can be a recipe for trouble resulting in customer dissatisfaction.
In short, you can't do the math with "ASAP" as a factor. If you are scheduling manually, automation can aggregate your operational data help and streamline planning.
Having routing and production requirements managed in one place can provide better visibility of your production operations. PBS Manufacturing ERP for small businesses is a robust system that helps smaller manufacturers stay on top of production planning.
A Sample Production Schedule

Production schedules in PBS Manufacturing can be simple, or complex, depending on your needs. Providing a simple plan by item, start date or due date, can provide production with the visibility it needs to execute in a timely fashioned.
Below is an example of a production schedule by start date. It's brief, and provides a list of orders due to be started in the timeframe you requested: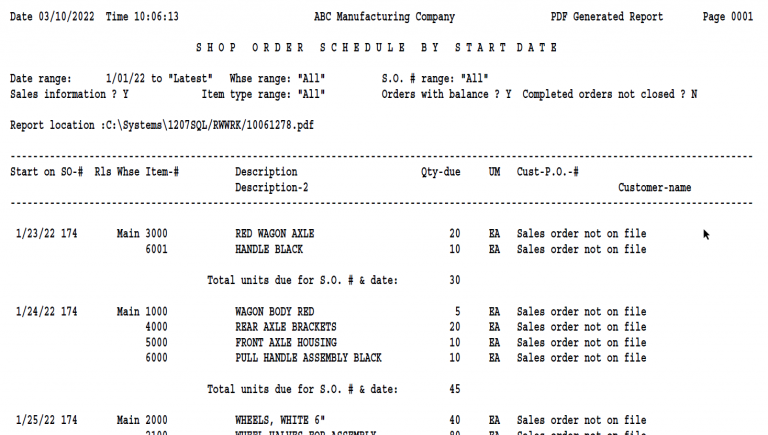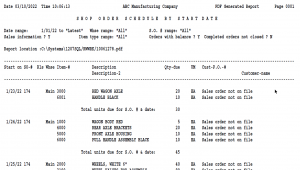 More complex schedules can be easily built and provide far more detail allowing the production manager, or even the employee on the floor, the visibility to see what specifically they should be working on in their work center on the production floor.
This means the detailed production step or operation they are to perform: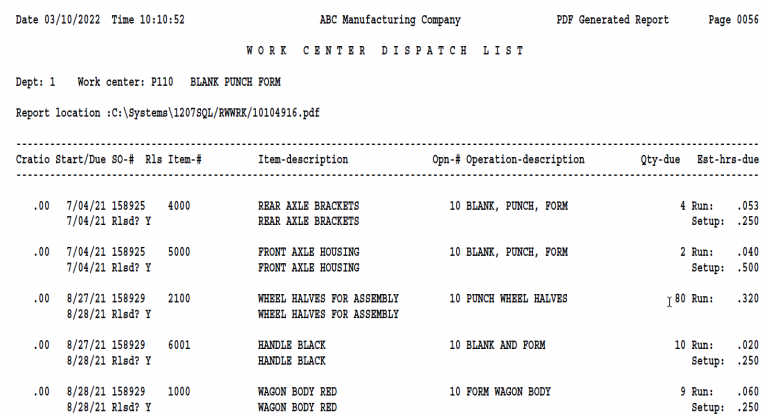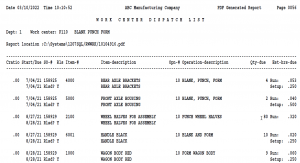 Either report can provide the smaller manufacturing company with the information they need to support an efficient production flow, and with proper material planning, the material they need to keep that production flowing on-time.
PBS small business manufacturing software provides in-depth reporting to improve visibility in order to prevent production bottlenecks for on-time deliveries. The bottom line is it can aid in getting customer's orders shipped when they need them making for a happier customer.
Call 800-969-7900 to learn more about PBS Manufacturing software for small businesses and mid-sized companies. Or contact us – we are here to help.
---