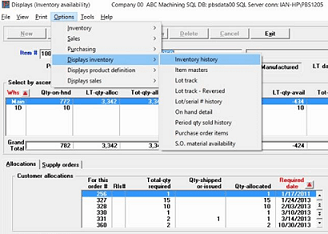 ---
---
Useful Data Improves Visibility
Hello again,
This post is for small and medium-sized manufacturing companies that are vetting new manufacturing software systems. We hope you find it useful.
Is your company collecting and tracking data manually? Better understanding of your operation and process improvement depends on data analysis.
Visibility
Whether you are manually tracking or relying on automation, useful data is the key to visibility, and the right data is needed for data-driven improvement.
Deliberate data collection provides the business insight needed for better decision making for your company.
Manual tracking can be time-consuming, burdensome, and more prone to errors. If you are currently relying on an application that is outdated, or insufficient in meeting your company's unique needs, our consultants can help.
Technology
The right small business manufacturing software for your company provides the tools you need to streamline operations and gain visibility.
As a manufacturing company, embracing the right technology can help you remain competitive in the marketplace.
A good manufacturing system can help you manage and track inventory effectively. Manufacturing ERP can also manage orders and purchasing, track job costing, and help to analyze your actual profit margins.
If you are tracking profit margins quarterly, a good manufacturing software system can provide ongoing (daily, weekly, monthly) reporting to make sure each item you produce is profitable.
Greater visibility can help ensure you have materials on-hand needed to produce on-time deliveries.
Moving on from 2020
From www2.deloitte.com, "For manufacturers, the events of 2020 may be a warning to develop better systems for navigating disruptions like the one we are currently experiencing.
Visibility is likely to become the most critical capability for manufacturers in the coming months. Where to increase visibility depends…and digital technologies could be important enablers.
By continuing to invest in digital initiatives across their production process and supply network, manufacturers can respond to the disruptions caused by the pandemic and build resilience that can enable them to thrive.
Manufacturers should set goals for data capture and analysis across the global manufacturing footprint, as this step alone is a key to identifying breakpoints and opportunities for improvement."
Passport Software
Effective manufacturing software for small businesses provides your shop with the productivity tools you need to gain control of your operation and improve productivity.
Having the right data when you need it is crucial for operational efficiency, maximizing throughput, and making key business decisions.
PBS™ Manufacturing has helped many companies gain better visibility, streamline operations, make on-time deliveries, improve customer satisfaction, and more.
With 30+ years of helping manufacturers, it is likely we have helped businesses with challenges similar to yours. Our consultants are experienced, and our US-based support is knowledgeable and friendly.
Our goal is to help you configure a system that provides an excellent fit for your company. For more information call Dave Dorsey at 800-969-7900 x145. Or, contact us – we are here to help.
---