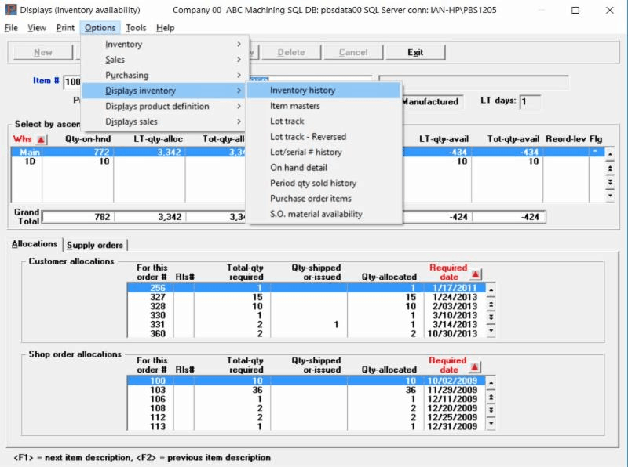 ---
---
PBS™ Manufacturing: Streamline and Optimize Purchasing
Hello again,
This post is for small to mid-sized manufacturers interested in vetting new manufacturing software.
Due to 2020 supply chain disruptions, many manufacturers have begun sourcing various suppliers rather than relying on one or two sources for components.
Securing supplies as well as streamlining operations, "doing more with less," is a top priority for many manufacturing companies.
Manufacturing ERP
ABI Research forecasts that the supply chain impact of Covid-19 will spur manufacturer's spending on enterprise resource planning (ERP) to reach US$14 billion in 2024.
Automation can streamline processes such as order entry, purchasing, and inventory management so you can have materials on hand when you need them.
Managing supply chain risk combined with utilizing effective automation can keep production moving and help ensure on-time delivery.
More Throughput
Automation can allow for better management of purchasing, including alternate suppliers, and also help ramp up production compared to using manual tracking or an outdated system.
In addition to gaining more visibility and better control of your shop floor, automation can provide more throughput with fewer employees. This frees up your staff for other critical operations-related duties.
Many manufacturers are sourcing effective manufacturing software systems to gain and maintain visibility and ensure optimal productivity.
Having an automated process helps maximize the efficient production of goods and helps manufacturers remain competitive in the marketplace.
Streamline
Once supplies are secured, it's important to avoid bottlenecks as well as wasted time searching for data in various spreadsheets for those companies that are tracking manually.
Automating purchasing helps ensure the correct components are on hand, and automation allows you to quickly order from back-up suppliers when needed and easily track and manage costs of those items.
Finding a manufacturing ERP system that is a good fit for your company is crucial in optimizing productivity and profitability.
Re-evaluating and updating operational processes can prevent delays caused by not having the correct inventory on hand when you need it.
Just-in-time inventory can ensure a steady flow of raw materials and minimize excess backstock that ties up cash flow.
You can optimize effective purchasing, have needed inventory on hand, set your own safety stock levels, and leverage an effective manufacturing software system to meet the unique inventory needs of your company.
PBS Manufacturing can help you with this and much more. Learn more about our manufacturing software for small businesses. Or, contact us – we are here to help.
---