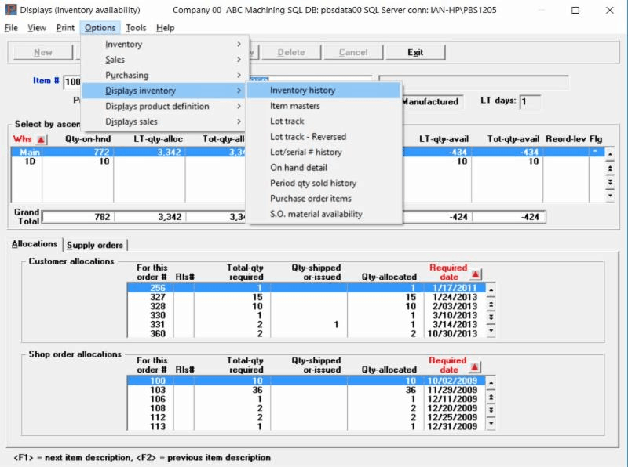 ---
---
Reduce Inventory and Increase Productivity
Hello again,
This post is for small to mid-sized manufacturers that are vetting new manufacturing software.
Are you manually tracking or dealing with multiple workarounds due to an outdated system?
A good manufacturing system can streamline your processes and help you gain better visibility of your operations, which can help with better decision making for your company.
Planning Tools
With the right planning tools, you can reduce your inventory while increasing your overall productivity.
PBS Manufacturing can help you gain control of your shop floor and help with the following:
·         Instant and constant visibility of inventory levels
·         Better control of your overstock levels
·         Order status at your fingertips
·         In many cases, shortened lead times to customers for better service
Productivity
It seems that a common issue facing small manufacturers these days is finding qualified people to work.
Many companies are growing but can't find the right people they need to get orders out the door.
The right manufacturing system can help make up for that.
PBS Manufacturing software for small businesses and mid-sized companies can help you accomplish more throughput with fewer employees.
If you are manually tracking important company data or using an outdated system, our manufacturing ERP can help you streamline and gain control of your operations.
Passport Software
We provide business solutions for various types of manufacturers that integrate with our highly respected financial software. We may have helped small or mid-sized companies similar to yours.
PBS Manufacturing customers manufacture a variety of products: hot tubs, electronic coils, commercial cleaning fluids, insulation hangers, medical devices, wire and wire connectors, and wooden pallets – just to name a few.
Most of them are a combination of make to order, engineer to order, with some make to stock. The majority also deal with sell through products which complement their product lines.
If you'd like to set up an introductory call to discover if we might be of assistance, contact Dave Dorsey at 888-689-2258. Or contact us – we are here to help.
---