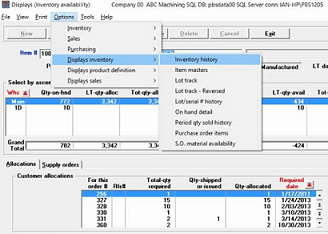 ---
---
PBS™ Manufacturing Software for Small Business Helps with Common Challenges
Hello again,
Here is Part II from a series of two posts with examples of how PBS Manufacturing software for small businesses and mid-sized companies has helped companies gain control of their shop floor.
Several common problems manufacturers may be facing include:
·         Lack of a central point of responsibility may result in some issues with the purchasing of goods.
·         Struggles in overall scheduling and disseminating this information to the shop.
·         Possibly labor/costing problems.
Purchasing
Our Product Purchasing module helps your company make informed decisions on purchasing.  Resist the desire to save a nickel by ordering many more parts than you need. It costs you money every day a part sits on the shelf, if only in tying up capital that could be spent elsewhere.
Work with real numbers and utilize reporting that can help make recommendations as you build more information so you can periodically monitor your re-order levels and min/maxes.
Manufacturing Scheduling/Planning
The Inventory Stock Status report can be used to do a similar thing with production. If a manufactured item has a re-order level and you dip below it, you want to ensure that you are aware and are able to act on it before it becomes a problem.
Similarly, if something fell through the cracks and a shop order was never created, you want to catch that before it's too late to do something about.
Shipment Schedules
In addition to shop order and purchase order visibility, by bringing all orders into PBS right up front, you can also see what we call a detail backlog report.
This is a report that shows you all open orders due to be shipped, and it can show you that information any number of different ways including; by scheduled ship date, item, customer, order… Again, you can dramatically improve visibility across the whole enterprise.
Labor/Costing
Our Job Costing module can help answer the following important questions:
How much actual direct labor is the staff giving you? How much is being wasted? If it's being wasted why?
Where am I making money and where am I not? Are my margins consistent or do I have certain units that are underperforming. If so, why? Are they worth continuing or should we be adjusting pricing?
Reporting
Also, running PBS manufacturing software for small businesses in a SQL environment can empower you to do some of your own unique reporting in order to make strategic business decisions.
To learn more contact your Partner or Call Dave Dorsey 800-969-7900 x145.  Or Contact Us – We are here to help.
---