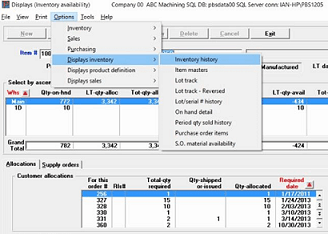 ---
---
PBS™ Manufacturing Integrates with PBS™ Accounting
Hello again,
PBS™ Manufacturing software for small businesses and mid-size operations integrates with our accounting solution for a powerful manufacturing ERP system.
Streamline production on your shop floor, track jobs, costs and quoting, as well as integrate with back end accounting: AP, AR, GL, Check Rec., and Payroll.
Manufacturing
As a modular, configurable software, PBS Manufacturing can help many different types of manufacturers.
Our Basic Bundle is a cost-effective system comprised of Inventory Management, Product Definition, Customer Order Processing and Product Purchasing.  The Basic Bundle requires the purchase of PBS financial modules AR, AP, and GL.
The Planning and Control Master Bundle build off of the basic bundle and include MRP, Manufacturing Job Costing and more.
Consulting
Our consultants are experienced, and we encourage you to speak with a manufacturing specialist in order to assess your specific goals and challenges.
If our solution is not a good match for your company, you will be the first to know, as we do not try and force our solution to fit a company.
In addition to speaking with our manufacturing specialist, we also offer a general needs assessment – our manufacturing tech can visit your operation and speak with the owner, as well key employees in order to make specific recommendations.
This is a great option for companies struggling with operational challenges that they have not been able to address from within.
Accounting
PBS Accounting provides a powerful professional level accounting system, and it is a modular system as well.  PBS can also help manage your company's growth with strategic business reporting.
PBS Accounting is a great solution for companies that are ready to upgrade from their entry level accounting solution or who wish to integrate a back end office system with our small business manufacturing software.
Environments
PBS v.12.04 and above running on Microsoft Windows 7, Windows 8, 8.1 and Windows 10 requires an Installation of .NET framework v.4.0.30319 or above. It is also required if PBS is running while on Windows Server 2008, Windows Server 2012 and Windows Server 2016.
Our manufacturing software for small business also works on a Linux operating System or a SQL environment.  Native client 11.0 is required to run PBS SQL.
To learn more Contact your Partner or call Dave Dorsey at 800-969-7900 x.145.  Or Contact Us – We are here to help.
---