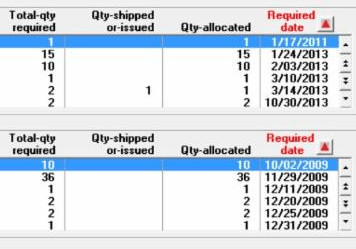 ---
---
Ease of Change Management and Training for PBS™ Manufacturing
Hello again,
This post is for smaller manufacturers that are vetting new manufacturing software systems.
Part of selecting a new manufacturing ERP software system includes vetting the level of support and ease of change management as well as the utility of the application for your company.
The following will give you an idea of how our implementation and training process works for PBS™ Manufacturing, so you can get a better feel for the level of support and expertise you will receive during the transition process.
Basic Bundle
The PBS Manufacturing Basic bundle provides a core system that is comprised of Inventory Management, Product Definition, Product Purchasing and Customer Order Processing.
The Basic Bundle can be a good option for the smaller manufacturer just beginning the automation process. PBS Manufacturing is a modular system, so you can add on later as needed.
The IM, PD, PP, and CO modules allow you to execute everything needed on the operations side of your business.
These modules provide the essentials needed to automate a small manufacturing operation, and more can be added as you grow.
We do provide many training videos to supplement live training. And while training videos are useful, there is no replacement for a manufacturing consultant who knows the product inside and out and can help you adapt the product to your processes.
As a general rule, we're trying to adopt the software to your process, not your process to the software.
Our training videos will give you the basics, in a general overview format, of how a particular program works.
There are so many nuances in the application that it is really difficult to put all the information into a five or ten minute training piece, so our consulting can help you with more specificity.
Don't assume you can't perform a specific function just because it wasn't mentioned in a training video.
Installation
Your installation will likely be facilitated by your Passport Partner. If you don't have a Passport Partner, then one of our staff members will assist you with this.
Once that is completed, we will set up some meetings to set your goals so that you can track progress as we move forward.
You can also determine who's going to be responsible for handling different tasks, as well as select an in-house project manager to ensure that each step is being done along the way.
Leveraging the Application
We're here to help you leverage the application as much as possible, but it's really up to you and your staff to determine how successful the implementation and training project will be.
We encourage you to create an outline that lays out what you want to achieve, and we can move through that process together.
Throughout the project, it's beneficial to encourage input from the top down – and bottom up.
You'll get some really good feedback from the lowest rung of the ladder all the way up to the top.
This inclusivity will help you make the best decisions about utilizing the application or about processes run by your company.
We want to help you get up and running as quickly as possible.
To see if PBS Manufacturing software is right for your company call 800-969-7900.  Or contact us – we are here to help.
---