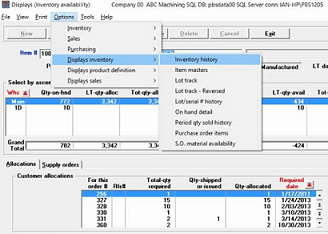 ---
---
The Power of Actionable Reporting
Hello again,
This post is for small and medium-sized manufacturing companies that are vetting new manufacturing software systems. We hope you find the information in this customer success story useful.
Howard McCray is a US-based manufacturer of commercial refrigeration units located in Philadelphia, PA.
They have been a user of PBS™ Manufacturing for many years, using it to manage their entire operation from production to accounting.
They recently reached out to Ian Creswell, our Manufacturing Product Manager, about a reporting need they had.
Reporting Needs
They use a unique approach to handling their material planning and had an Excel report that had been designed in-house, leveraging the information in the Passport Business Solutions™ database, that helped them simplify their process.
They wanted and needed more information to further streamline this process and were hoping Ian could help.
Ian worked with them remotely to review the existing spreadsheet design, and to discuss the design changes they were looking for.
He found that the existing design wouldn't allow them to achieve their end goal, but with some changes, Ian felt he could make their desire a reality.
Better Visibility
After a bit of discussion, Ian began working with the owner, Chris Scott, and with Will Bell, the primary user of the existing report, to begin to redefine the existing spreadsheet to help them achieve their goals.
The first thing he did was aid them in breaking down their different products into logical groupings. He used a single worksheet to break out manufactured goods from purchased goods.
He then linked information from their Shop Order (work order/production order) and added in details from the Shop Order so they had a higher level of visibility of not only which items required attention, but specifically what orders were calling for these and when.
The group was immediately excited and realized that this was going to make their jobs so much easier to get done.
Ian repeated the process with purchased goods and linked these to their PO's where PO's were available.
Powerful Reporting Tool
Lastly, while trying to show Chris and his team how easy it is to use Excel pivot tables to organize information, and how much power was available within them, they had yet another useful tool within their spreadsheet to allow them to organize and manage their material planning function.
Chris was so excited he felt the need to share his story with John Miller, President of Passport Software, Inc. In his own words:
"Ian spent the time and accessed Will's screen & the ODBC report we wanted to enhance. Ian spent 30++ minutes with us & showed us the POWER of ODBC and wrote a report that is TREMENDOUS – I can not EXPRESS enough words of THANKS to Ian. It made my week!! We are using the NEW ODBC report now & WOW – what a difference!"
Chris went on to say "I just wanted to let you know about HOW THANKFUL we are for Ian's support. Words cannot express our gratitude."
PBS Manufacturing helps increase operational visibility and provides in-depth reporting for better business intelligence.
Call 800-969-7900 to learn more about our manufacturing software for small businesses and mid-sized companies. Or, contact us – we are here to help.
---