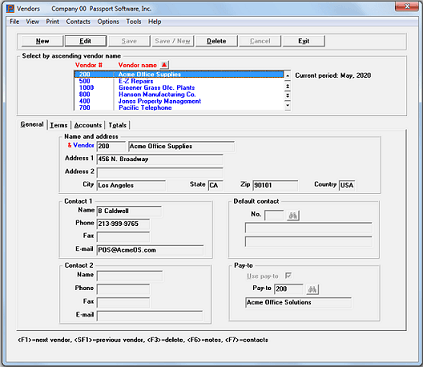 ---
---
Passport Software Customer Reviews
Hello again,
This post is for small to mid-sized companies who may be vetting a new accounting system. Here's what customers are saying about PBS™ Accounting.  We hope you find it helpful.
Benefits
PBS™ Accounting helps you manage finances, maintain compliance with changing regulatory requirements, and strengthen the financial health of your company.
Keep tabs on expenditures and manage your cash flow, while comprehensive reporting data allows you to see the big picture and know how your company is doing at any time.
"Its ease of use, how it can adapt to any type of business, how you can set up financial statements to look just like your accountant's statements, but also run financials with far more detail for your internal business use."
Insight
Manage cash flow with accurate and detailed status information about deposits, debits, payables and receivables.
Real-time reporting provides you with greater insight for effective decision making and planning.
"Intuitive, flexible and feature rich…Fits a wide range of businesses, including CPA's, wholesalers, retailers, manufacturers… Best accounting software I have seen or used so far! Excellent support provided by local dealers nationwide, backed by central support operation that is available directly."
Increase Profits
PBS™ Accounting is powerful, scalable and easy to use.
Upgrade from manual tracking with spreadsheets – automate and simplify your processes while spending less time closing your books.
"Long term relationship…to me, the sticking-with-Passport power has been their commitment to the product, their dealers and their end-users."
Passport Software
With 35 years of business and accounting experience, Passport Software provides comprehensive yet easy to use accounting software for small businesses and medium sized companies.
Simplify and integrate your accounting processes to better manage your company's financial health. Comprehensive reporting provides business intelligence that can help you make better decisions and increase your bottom line.
PBS™ Accounting is a modular system, so you can purchase only what your company needs.
"Very user friendly, only purchase modules you want. Don't have to buy an entire package with stuff you won't use, but simple to add on as desired."
Call 800-969-7900 – Or Contact Us.  We are here to help.
---