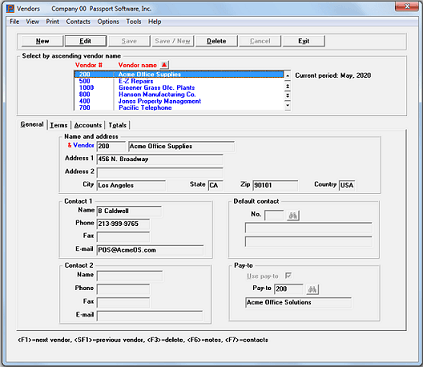 ---
---
PBS™ Accounting vs. Manual Tracking
Hello again,
This post is for small to medium sized businesses that are vetting new accounting software systems. We hope you find this helpful.
If you are manually tracking your financial data, accounting software can streamline your processes by automating your company's financial transactions.
Passport Software's accounting software for small business and mid-sized companies is a modular based solution, so you can scale up as you grow: Accounts Payable, Accounts Receivable, General Ledger, Check Reconciliation and Payroll.
By integrating these functions you can track and manage your financials effectively and leverage real-time reporting for better business intelligence.
Automating an organization's financial functions helps save time by automating repetitive tasks, reducing errors and helping avoid redundant entries.
Your staff can spend time on other critical business activities instead of time consuming manual entry and tracking.
Comprehensive
Passport Software's accounting software for small business optionally integrates with our Manufacturing and Distribution business solutions for a complete ERP solution.
Automation helps you aggregate your financial data to gain a comprehensive bird's eye view of your company's financials using one comprehensive system.
If you are using an outdated system that requires workarounds, PBS Accounting can help you reduce the dependency on varied spreadsheets and help you gain financial visibility of your operation.
PBS Accounting
Our accounting software for small business and mid-sized companies is a robust product that is both affordable and comprehensive. Track profitability, monitor cash flow, ensure bills are paid on time, and more.
Our consultants are experienced and can help you determine if PBS Accounting is a fit for your organization and help tailor the software system to your company's unique business processes.
Our professional level accounting system is easy to use yet powerful for those outgrowing their entry level accounting software.
PBS Accounting is flexible and scalable for comprehensive financial management with excellent audit trails as well.
To learn more call 800-969-7900. Or contact us – we are here to help.
---