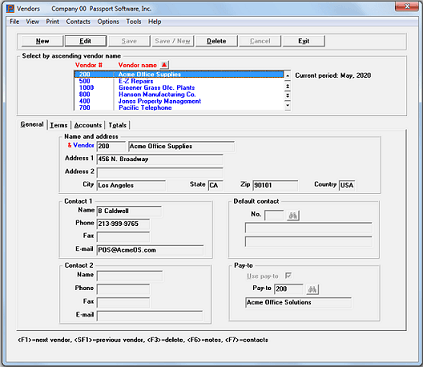 ---
---
Are you using Positive Pay?
Hello again,
This post is for small and mid-sized companies that are vetting new accounting software. We hope you find it useful.
Implementing positive pay with your bank can go a long way towards preventing fraud within your company.
Our Accounts Payable software module creates Positive Pay records for transmission to your bank for an effective anti-fraud tool for check disbursements.
ACH
PBS Accounting software provides ACH direct deposit payments for electronic AP disbursements.
And, it archives a full vendor history showing the details of all entry and payment activity for as long as you want to keep it.
When you associate the pay-to address with a vendor, the pay-to address is printed on the vendor check.
Case Study
A PBS customer (not using Positive Pay) had a former employee who had stolen a few AP checks from the company just before being fired.
After he left the company, he wrote a $25,000 check to himself, which the bank cashed.
When the customer went to the bank to explain that it was a fraudulent check, they were basically told "too bad – If you were using positive pay, you wouldn't be responsible for this check." Ouch.
Positive Pay
PBS's Positive Pay feature generates a record that is transmitted to your bank on a daily basis (or whenever you have check activity).
If the bank doesn't have that check with that name on it, they will not honor it. If they do honor it, the liability falls on the bank.
Although it adds a step to daily processing, all it takes is one bad check to make it worth the effort.
If you are using AP or Payroll, we highly recommend you check out this feature which can help you avoid a potential costly situation.
Learn more about our accounting software for small business and medium sized companies.  Or contact us – we are here to help.
---