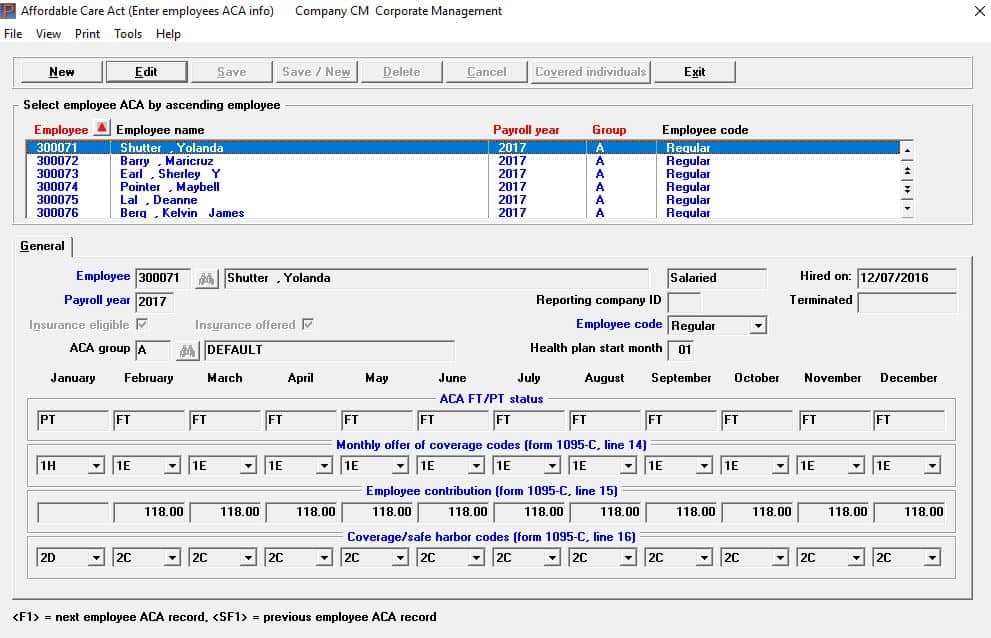 ---
---
PBS™ Accounting – Optional ACA Software for Compliance Management
Hello again,
This post is for small businesses that are vetting new accounting software systems. PBS Accounting includes optional ACA software to streamline compliance for ALEs. We hope you find it useful.
For companies that are outgrowing their entry level accounting solutions, there are many benefits to upgrading to comprehensive accounting software.
A professional level accounting solution will help you gain better visibility of your financials, handle complex accounting needs, provide better reporting for decision making, and provide compliance management for your business.
Our Accounting ERP assists with regulatory compliance, sales tax compliance for remote sellers, and Applicable Large Employers (ALEs) can benefit from our optional ACA software, available in the PBS Accounting suite.
Bookkeeping Software
Entry level accounting software starting at a low price point is essentially small business bookkeeping software. You can track income and expenses and create basic financial reports like income statements.
Low end bookkeeping software is limited to accounting functions, and with an upgrade you can get a basic inventory management function, which may have limited capabilities.
It may not provide in-depth reporting, sales tax compliance management for remote sellers, or ACA software that can help manage compliance year-round.
Eventually you may find that you are using workarounds such as spreadsheets to compensate for an entry level system that your business has outgrown.
Professional Level Accounting
A low-cost entry level accounting solution may suit some small businesses when their accounting needs are minimal, such as the need to create basic invoices and pay bills.
However, professional level accounting software offers a comprehensive scope for managing your company's financials as your business grows.
Compliance management is crucial for avoiding costly fines and penalties. This includes compliance with regulatory requirements, and ALEs may benefit from comprehensive ACA Software to simplify compliance.
Having a robust accounting solution with ACA software (when needed) that can streamline compliance throughout the year can help ensure that you avoid penalties.
Companies outgrowing their entry level accounting system can take advantage of PBS, and for those who are manually tracking ACA compliance or underwhelmed by their current ACA solution, our easy-to-use ACA software can help you avoid penalties year-round.
Investment in the future
The choice of an entry level accounting solution can appear to be sensible, especially if you have a small budget with just a few employees. But you are making an investment in your company's future.
Even very experienced entrepreneurs are unable to plan exactly when and how their companies will experience growth. As your company begins to expand, having a software solution that can scale with your company takes on greater importance.
A growing company can suddenly become subject to compliance regulations that were previously irrelevant and for which little to no planning was done. Perhaps during a busy time, extra staff were hired part-time to come in and help with the heavy traffic.
Without realizing it, your company could suddenly fall into being an ALE (Applicable Large Employer). Without the option to add ACA software, managing and preparing ACA compliance data becomes a huge manual task fraught with errors and missed deadlines.
Or your shipments to out-of-state customers increase. Increasing sales is always good news but if you exceed a threshold for a state's out-of-state seller tax regulations and fail to then process and report the sales tax, you risk incurring penalties.
Choosing accounting software that can easily manage the addition of compliance support such as ACA software or Wayfair sales tax regulation management is not only an investment in your company's future but protection for your company's future.
No one can truly predict if or when it will happen, but customer demand can suddenly escalate. Unable to manage the increased production, inflexible, overly simple systems can become frustrating to use, actually hamper growth, and leave your company at risk for compliance violations. To then have to consider changing systems under those trying circumstances would be an additional nightmare.
PBS Accounting with Optional ACA Software
PBS Accounting is a scalable modular solution, so you can add-on as you grow. Track your cash flow, increase efficiency, gain visibility of your financials, and reduce errors if you are manually tracking with spreadsheets.
Robust and affordable for small to mid-sized companies, in-depth reporting provides a better analysis of your financial data for better decision making.
PBS Accounting integrates with PBS Manufacturing and PBS Distribution, so if your shop or warehouse has grown into an Applicable Large Employer (50+ full-time employees) our optional ACA software can help you manage ACA compliance year-round.
If your company is limited by your current software, PBS can help with inventory management, order management, purchasing, and much more.
Consulting and Customer Service
With 30+ years of helping small to mid-sized companies, our goal is to help you configure a system that meets your unique needs.
Our expert consultants partner with you to get to know your business processes well enough to tailor a system that is an excellent fit for your company.
Without experienced consulting, you may end up investing in a system that is not a good match for your company, and you may end up having to use workarounds such as spreadsheets to compensate.
When vetting software providers, it's important to look at customer reviews. Effective implementation and training services are important in addition to great consulting.
High-end software solutions can end up being expensive and/or cumbersome with too many modules. A solution designed for SMBs may be a better fit for your small to mid-sized company.
Some software pricing may seem affordable, but with a higher user-count (concurrent users) or maintenance fees and support, the price becomes much higher.
Passport Software
Since 1983 Passport Software has been a leading provider of business software solutions for small to medium sized businesses.
PBS Accounting scales to meet your unique business processes, and you can add-on modules as your company grows.
Our accounting software increases efficiency and improves visibility for a bird's-eye view of your financials. In-depth reporting provides business intelligence for better decision making.
And, our software provides regulatory compliance management including sales tax compliance management for remote sellers and ACA software for ALEs.
To learn more call 800-969-7900. Or, contact us – we are here to help. You can also email psi@pass-port.com with questions.
---