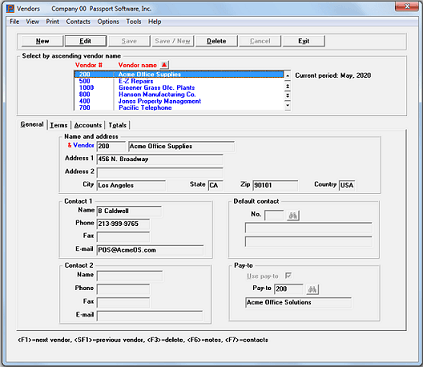 ---
---
Better Decision Making for Your Company
Hello again,
This post is for small businesses that are vetting new accounting software systems. We hope you find it useful.
An accounting system that is unable to evolve with your changing needs eventually becomes obsolete. Outgrowing your system costs your business money. Accounting software should add value to your business, not detract from it.
Effective Accounting ERP helps to streamline processes, improve accuracy, minimize risk of late payment penalties, and reduces manual effort, freeing up staff for critical operational duties. In-depth, customized reporting provides business intelligence for better decision making.
Customized reporting can make retrieving data for business analysis easier and more effective than standardized reporting. Standard reports may not be as useful if you can't pull the exact data needed for better business decision making. With custom reporting, you retrieve data the way you want it to create the reports you need.
Custom Reporting in PBS™
Passport Business Solutions™ (PBS ™) is designed for different types of businesses: Distributors, Manufacturers, Accountants, Retail Businesses, and many others. In each of these categories, there are many types of similar, yet different, companies.
For example, two companies that do the same basic things will each have their own key indicators they wish to see on a daily, weekly, monthly, or an annual basis.
For customized reporting, implement PBS SQL, AcuXDBC, or Passport™ Query Builder:
– AcuXCBC and PBS SQL open up access to the information stored in your PBS database to allow your information to work for you, rather than you working for it.
– Passport™ Query Builder is a software reporting tool that simplifies Microsoft SQL reporting. With Query Builder, there is no need-to-know SQL reporting tool commands.
– Tools like Microsoft Excel, Access, Power BI, Crystal Reports, and any one of hundreds of other potential reporting solutions can be used to leverage the information in your database.
You can tailor your reporting to meet your specific needs. In other words, support your decision-making processes with the information you need to make timely, accurate decisions without having to wade through multiple sources to get there.
Achieve New Growth
Better reporting can save you time, money, and can help you achieve new growth through timely information organized just the way you need it. If you are manually tracking or have outgrown your current accounting system we can help:
– PBS™ Accounting provides the visibility needed to better manage your financials and pays for itself quickly by boosting productivity, increasing business efficiency, and delivering many new features and functions.
– Easily keep your books updated and maintain a bird's eye view of your financials to determine if you need to cut operating expenses, adjust your purchase/expenditure strategy, or make other adjustments.
– Richly detailed financial reporting helps manage business more effectively with clearer insight. In-depth reporting gains a bird's eye of your financials in real-time, and allows you to streamline your financials.
Which is the right reporting tool for your business? Your Passport Partner can help you make this decision though here are a few pros and cons to each:
PBS SQL
Pros
– Faster reports. Handles large data sets quickly and efficiently.
– Can be deployed on any workstation on your network even if they aren't a PBS user without purchasing additional licenses.
– Will work with virtually any ODBC or SQL compliant tool.
Cons
– A slightly higher investment for smaller sites. For larger sites it actually becomes more cost effective.
AcuXDBC
Pros
– In smaller sites only requiring a few custom reporting users, this can be the more affordable option.
– Does not require the installation, configuration and maintenance of Microsoft SQL Server.
Cons
– Requires the purchase of a unique license for each user you wish to have this level of access.
– Doesn't integrate with some applications. An example would be Microsoft Power BI. This is a basic ODBC Driver and Power BI requires some advanced ODBC capabilities to integrate.
– Reports against large, complex data tables will run slower. This can be a significant difference in speed. We've seen situations where a complex Access report based on large files with many linked tables took an hour or more to run with XDBC and 2 minutes or less with SQL.
Query Builder
Passport™ Query Builder provides a friendly user interface, and there is no need-to-know SQL reporting tool commands. Just select the PBS™ data you want, view your results, and run your report.
Passport Query Builder allows users to export reporting data to Excel, Microsoft SQL Server Reporting Services (SSRS) or any ODBC-compliant program such as Access, Crystal, etc.
– Access, view and report on PBS data the way you want
– Save and refresh key reports
– Easier to use than standard Microsoft SQL reporting
Consider adding one of these tools today and tailor Passport Business Solutions to meet your specific needs.
PBS™ Accounting
PBS™ Accounting for small business and mid-sized companies provides a generous ROI for many businesses; secure financial management, better reporting, and optional integration with additional applications.
PBS is a flexible modular solution tailored to your unique needs, and you can scale up as your business grows. Our expert consulting, excellent training, and helpful US-based support makes upgrading to PBS Accounting easy:
– PDF printing and emailing of accurate digital emails of statements, purchase orders and invoices. Pay and process vendor invoices on time via ACH, with email remittance advices to same vendors, avoid late fees, streamline your document management to save time and increase staff efficiency.
– PBS eDocs and your scanner digitizes paper AR and AP files and centralizes documents to boost productivity.
– Passport also offers a proven on-premise payroll system, plus Affordable Care Act software, sales tax compliance management for remote sellers, system-wide reporting, and so much more.
– PBS Accounting provides reliable audit trails, and with on-premise software, you have control over your software and your server. With company authorization, you can change security measures, including physical access to your computers and servers at any time.
– Optional integration with PBS Distribution, PBS Manufacturing and more business solutions allows you to improve inventory management, gain better control over your entire operation, and streamline business processes for increased profitability.
Seamless automation helps improve cash management and streamline accounts receivable, accounts payable, general ledger and much more. Easily monitor expenses and profits to track and adjust for the effects of the economy on your company.
To learn more about Passport Software's accounting software call 800-969-7900. Or contact us – we are here to help.
---