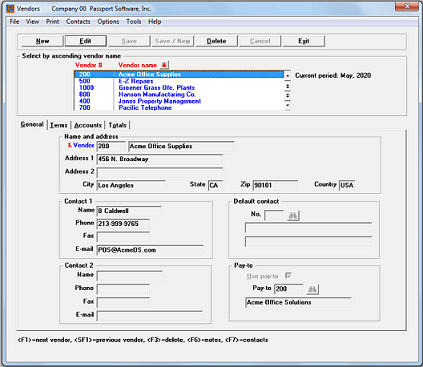 ---
---
ACH Payments for Electronic AP Disbursements
Hello again,
This post is for small to mid-sized companies who may be vetting a new accounting system. We hope you find it useful.
Passport Software's Accounts Payable module allows you to pay selected vendors via ACH direct deposit.
With ACH direct deposit, the mailing of checks is not required, adding an additional layer of security that the check will not get lost in the mail.
ACH
The Automated Clearing House Network provides a system for transferring funds electronically.
The ACH Network includes more than 10,000 financial institutions that facilitate the transfer of money from one account to another.
This network handles direct deposit for payroll or vendor payments, tax refunds and facilitates various other payment types.
Online Transactions
ACH allows for quick and easy online transactions, and most payments and debits clear on the same business day.
These transactions include direct deposits and payments made by companies, charitable organizations, or governmental entities.
Also, individuals are able to transfer funds to each other via direct deposit or e-check.
Last year the ACH Network processed about 23 billion transactions including paycheck deposits, Social Security payments, bills (including utilities and mortgages) as well as B2B payments and payments made from one individual to another.
Passport Software
Passport Software's Accounts Payable program can assist you in maintaining your good credit rating by helping you to manage your cash wisely.
Keep accurate information on vendor, supplier and costs by tracking payment due dates, available discounts, and money owed to creditors.
Our AP module may be interfaced to Passport Business Solutions General Ledger, Job Cost and/or Purchase Order, Check Reconciliation, NCR Counterpoint or used stand-alone.
Call 800-969-7900 for more information.  Or Contact Us – We are here to help.
---