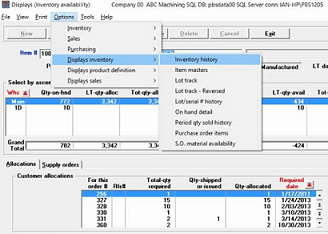 ---
---
PBS™ Manufacturing Software for Small Business Team
Hello again,
PBS™ manufacturing software for small businesses and mid-sized companies can accommodate changing reporting needs for companies.
Once the data is in PBS Manufacturing, new reports, charts, and dashboards can be set up to meet new or changing requirements.
Working with a wide variety of manufacturing environments, we've seen many ways of doing business and solving problems.
As a part of our PBS Manufacturing team, you can email us any time, even early in the morning, to explore new reporting ideas or other changes.
A Recent Email
A recent email arrived early in the morning. Mornings are when most managers take a few precious minutes to see to priority emails before heading out into the plant or onto the shop floor for the work day.
Here's a copy of a recent email from one of our customers:
"Hello, here is another chart I'd like to develop. It's a bit different than others in that I am looking to track specific item #'s on a daily (or anytime) basis. These are the units we build on a most regular basis. I'd like to refresh this every morning. How do we do this? Thanks…"
We replied within a couple of hours with specific instructions for creating this in Microsoft Excel and considered other options that might be better while we waited to hear back from the customer.
His response, "This worked perfectly by the way!"
Better Reporting
No software can anticipate and provide built-in reporting for all of the clues and data patterns that experienced managers watch in order to monitor the health of their operation.
However, by running PBS™ manufacturing software for small businesses in a SQL environment your data accessible to a wide variety of reporting tools that are easy to use and generally available, so you can create your own reports without custom programming.
Growth is not usually linear. Costs are not constant, nor are product orders. Business is ever-evolving and your business reporting needs to be just as flexible.
To learn more about our manufacturing software for small businesses and mid-sized companies contact your Partner or call Dave Dorsey at 800-969-7900 x145.
Or Contact Us – We are here to help.
---