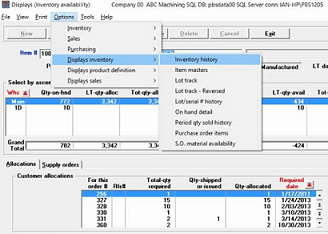 ---
---
PBS™ Manufacturing: Minimizing the Impact of Business Disruptions
Hello again,
This post is for manufacturers that are vetting new manufacturing software solutions. We hope you find it useful.
The 2020 business disruptions and recession have slowed down customer orders for some manufacturers or may have caused disruptions in the supply chain.
For the smaller manufacturer, the impact may be more substantial compared to the effects on large companies that produce numerous product lines or have a large financial cushion.
With resources stretched, it's important to find solutions to streamline productivity and maximize throughput.
IT Investment
Is it time to implement a robust, yet affordable Manufacturing ERP system designed for your small to mid-sized operation?
Whether you are using spreadsheets and workarounds, or your system isn't full-featured enough, an affordable yet flexible system can help streamline operations and position you for growth as the economic climate improves.
Implementing a manufacturing software system that supports and even improves upon your unique business processes can help to offset the consequences of an economic downturn.
Gaining more visibility and better control of your shop floor can improve productivity and provide comprehensive reporting for strategic planning.
Hidden Opportunities
What are your operational vulnerabilities at this time?  An effective system can increase throughput with fewer employees, freeing them up for other essential duties.
Streamlining inventory and integrating order entry with purchasing can help ensure on-time deliveries, helping you remain competitive in the marketplace.
Job costing and knowing your actual profit margins (not just quarterly or annually) can provide more detailed insights for better decision making.
With an effective system, you can minimize any bottlenecks and "do more with less": Less time, less effort, less redundancy, and fewer errors.
Business Objectives
Strategic data management can streamline business processes and be utilized for useful reporting to help make better decisions for your company.
During business disruptions the focus may shift to areas requiring immediate attention as opposed to  IT investment.
However, the expenditures on a comprehensive manufacturing system that meets your company's unique needs may provide an ongoing ROI if the system is used properly.
A system that is a good fit for your business, smooth implementation and training, and having staff on board can result in greater efficiency and more control over your operational processes.
Greater visibility, more control over your key business processes, and in-depth reporting can help shift a company out of "best guess planning" and improve strategic decision making.
Inventory Management
During an economic downturn, methods of cost-cutting, saving time and effort, and maximizing revenue are crucial.
Streamlining inventory, purchasing, and order management can facilitate on-time deliveries and better customer service.
Job costing, planning, forecasting, and knowing your actual profit margins (not just quarterly or annually) can position you for growth as the economy improves.
A Competitive Marketplace
When you select manufacturing software that supports, and even improves upon your unique business processes, you can increase order processing speed and inventory accuracy.  Free up cash flow tied up in back stock, have materials on hand when you need them, and ensure on-time delivery of your product.
What are your current capabilities, your position in the marketplace and how can you leverage an ERP system to meet your business goals?
If you are manually tracking with spreadsheets, using workarounds or an outdated system, now may be the time to investigate alternative solutions.
Once your data is aggregated and streamlined, you gain visibility and control over your operations in order to meet your business objectives.
A manufacturing ERP system can help you accomplish "more with less." Save time, effort and increase productivity – this can result in an ongoing ROI on your technology investment in a relatively short period of time.
Consulting
In a manner of speaking, ERP is as much of a service as it is a product.  Your consultant should be able to work with you to ensure a good fit with your new system.
Good consulting can show you where a particular manufacturing system will improve your operational performance, increase efficiency and enhance profitability.
Your vendor should be experienced in change management, implementation and training.  Also, a good consultant will help you with solutions going forward as your company grows.
Passport Software
PBS™ Manufacturing is a powerful, affordable system designed for small to mid-sized manufacturers.  Our manufacturing software for small businesses is a modular solution that scales to meet a company's unique needs.
Unlike larger systems, PBS™ allows users to accomplish more in less time, giving your staff the flexibility they need to cover multiple tasks.
Call 800-969-7900 to learn more about our manufacturing software for small businesses. Or contact us  -we are here to help.
---