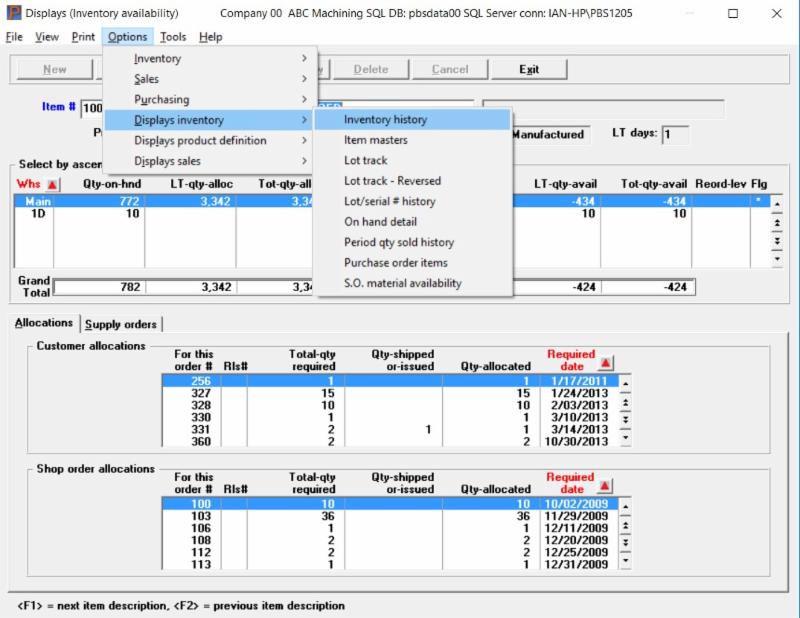 ---
---
The Top Three Challenges Many Manufacturers Face
 Hello again,
This post is for small and medium-sized manufacturers that are vetting new manufacturing software systems. We hope you find it useful.
Passport Software and our Partners have helped hundreds of small to mid-sized manufacturers across the U.S. These manufacturers have faced many challenges, internal and external. The pandemic resulted in a whole new set of factors that affect the manufacturing sector. PBS™ Manufacturing ERP for small businesses has helped shops navigate these challenges successfully, not just in order to survive, but thrive.
In recent years, the three things that many manufacturers have had to deal with are staffing shortages, supply chain challenges, and accurately tracking costs. Implementing an effective manufacturing ERP system can help you streamline operations, gain better visibility, and mitigate these challenges.
Staffing Shortages
Staffing issues existed pre-pandemic, but have become more widespread since then. Many very dependable and stable members of the workforce have retired. Some of the younger generation are less experienced or don't possess the same dependable work ethic as their predecessors.
A right-sized, flexible system can free up your personnel to be more productive. And, effective manufacturing ERP for small businesses will provide accurate information quickly for better decision making.
Many small manufacturers have not implemented an integrated, comprehensive system. These shops are still using a combination of software products that require double or triple entry. Some are still manually tracking with spreadsheets, a whiteboard, or hand generated forms.
We recently spoke with a small manufacturing company in central Massachusetts. They were experiencing a significant increase in business, but several of their long-time, dependable staff retired. Finding the next generation of qualified workers was a challenge.
The new GM took a creative approach to hiring. He met with a local pastor who worked with folks who were looking for jobs, and the GM successfully hired two new young employees. In addition to hiring more qualified staff to improve productivity, implementing PBS Manufacturing ERP for small businesses can improve efficiency to provide more throughput with fewer employees.
Supply Chain Challenges
Supply chain management continues to be a challenge for many businesses, not just manufacturers. Fluctuating availability, inaccurate lead times, and missing shipments are all factors. Dealing with an unstable supply chain creates extra work and can affect customer service.
Trying to manage purchasing challenges with a manual system can be an overwhelming task, extremely time consuming, and frustrating. A comprehensive system that provides real-time data can help you maintain accurate inventory and compensate for longer lead times.
– Create a vendor "report card" that tracks quality and delivery performance
– Purchase larger quantities or buy them further in advance
– Track fluctuating prices of materials
– Maintain a preferred vendor as well as alternative sources
An effective manufacturing system allows you to spend a lot less time managing all these factors and helps you gain better control of purchasing.
Tracking Costs
Many manufacturers make cost adjustments to their General Ledger once or twice a year. This practice does not provide very accurate or timely data to assess product costing. These days, costs often fluctuate with each purchase order. Real-time reporting helps you track the actual job costing data needed to make effective adjustments, which will affect profit margins.
PBS™ Manufacturing gives you the ability to track costs in real-time. Not only material costs, but also labor, subcontractor costs, overhead and burden. You can make adjustments as needed. We also provide the data needed to determine where you are or aren't making money. The end result is a much more accurate and timely picture of your profitability.
Passport Software
There are many ERP systems on the market, and most of them are built for the medium, large, or very large manufacturing company. Adopting a larger system can result in a long implementation time with many people involved, much effort, and be costly.
Many smaller manufacturers are relying on spreadsheets or desktop tools to manage operations. We've helped many manufacturers who were manually tracking to streamline, gain visibility, and improve productivity and profitability.
PBS™ Manufacturing ERP is specifically designed for the small to mid-sized manufacturer. The system is modular in design and integrates with PBS™ Accounting to adapt to your unique needs and processes. You can select only the modules you need and scale up as you grow:
– Streamline purchasing, inventory management, and more
– Set alternate vendors in the system to manage sourcing
– Have materials on hand when you need them
– Gain visibility and improve productivity
– More throughput with fewer employees
You may not know if a system can help you improve your unique operational processes, however, we make it easy to explore improving your operations.
Call 800-969-7900 to learn more about PBS Manufacturing ERP, an affordable yet robust system designed to serve the needs of small to mid-sized manufacturers. Or, contact us – we are here to help.
---