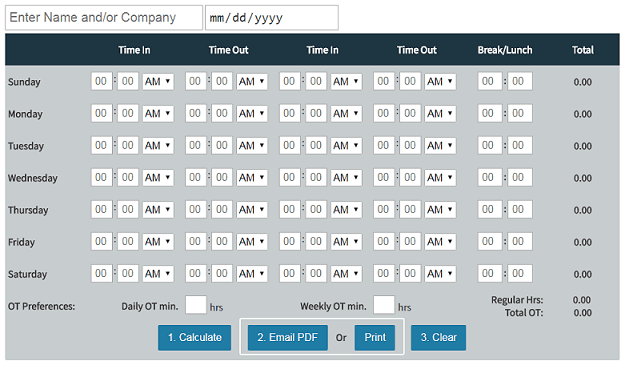 ---
---
Free Online Time Card Calculator
Hello again,
We would like to thank  Samantha W. at TimeClick® for this guest blog post, and we hope you find it useful.
Free online time card calculators are excellent tools for companies still using paper time cards. They allow managers and employees to enter start and end times for each day and get totals for the week. While these tools are convenient and cost nothing, they are limited in how much they can do.
If you are looking for a time card calculator that has more advanced features such as overtime tracking, break tracking, and reports, TimeClick's  free online time card calculator is a viable option for you. Below is an introduction to TimeClick's calculator.
Key Features and Functionalities
·         Customizable – Add the employee name, company name, and date to the calculator. This information appears at the top of the PDF report that can be emailed or printed. Note: the name, or any of this information, is not saved on the website so it is secure. Adding the name simply makes the PDF of the time card customized and professional and is cleared when the web browser or tab is closed.
·         Time In and Out – Enter the times an employee comes and goes each day. There is space for two clock in's and two clock outs per day.
·         Break/Lunch – You have the option to enter a flat amount of time for breaks during the day. This is especially convenient when an employee clocks in and out once per day and lunch break is deducted at the same flat amount each day.
·         Daily and Weekly Totals – You can view the total hours worked for each day and week as soon as you type in the times and/or breaks. These totals are shown in a decimal format. Weekly totals display Regular Hours worked and the total OT for the week.
·         Overtime (OT) Preferences – Track daily or weekly overtime by entering the minimum threshold for the calculator to begin counting overtime. For example, 8 hour Daily OT minimum and 40 hour Weekly OT minimum. This is customizable according to the way you track OT.
·         Email or Print PDF – Email a copy of your PDF to yourself or to someone else such as the payroll manager. The process is quick and easy. Simply click Email PDF and a new window pops up asking which email you would like to send it to. A confirmation that it was sent is shown directly after. You may also print the PDF to keep a paper trail of your time cards. After selecting Print you can choose which printer use.
Here is a sample PDF report from the time card calculator.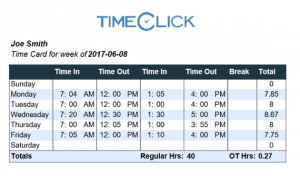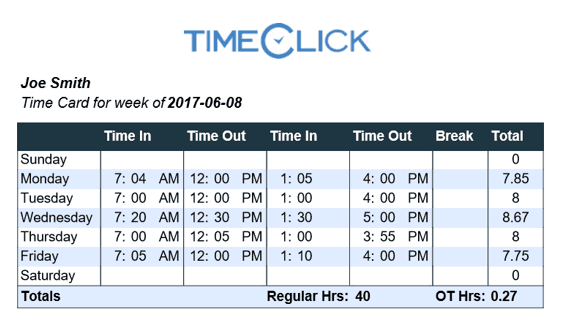 In addition to its ease of use and features, you have complete access to our support team directly on our website via live chat. We are confident this tool will be useful for you and your employees.
We hope you found this post helpful – Learn more about Passport Software's partner TimeClick.
---