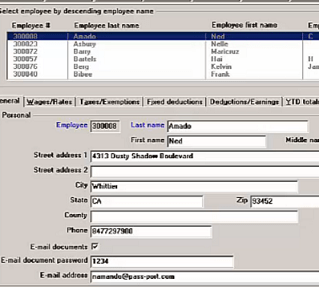 ---
---
Fraud Prevention for Your Business
Hello again,
This post is written by John Miller, President of Passport Software, Inc. We hope you find it useful.
I just returned from visiting a company that owns and operates a group of fast food stores. The president of the company told my sales person and I about some significant check fraud experiences that they have had.
Their response has been to change their payroll account and order new checks periodically. Also, they now send a list of payroll checks to the bank to use in their positive pay service.
Positive Pay
In case you do not know about positive pay, it is a service offered by most banks whereby they verify checks presented for payment against a list of checks you have issued.
The list may be printed or a data file that is transmitted to the bank and imported into their system to screen the check number, date issued, payee and dollar amount.
If a check is presented that does not match, it is held pending investigation. There is usually a charge for this service the bank provides, at least in my experience.
Positive Pay is one way to protect your company from check fraud, but there are others.
ACH
ACH, which stands for Automated Clearing House, refers to electronic funds transfer of payments or charges through the banking network. Payroll direct deposit and accounts payable may both be paid via ACH.
In this method, your payroll or AP software creates a data file of the "checks" you wish to issue and you upload that data file through your bank's electronic banking portal.
The money is transferred on the date you specify and you do not have to print and send out paper checks.
This system has been around a long time and works very well.  In addition, pay stubs or AP remittance advice documents may be encrypted and emailed to the employees or the vendors.
One additional option for payroll that is becoming more popular is to use the ACH file to deposit net pay into a debit card account.
If the employee does not have a bank account with debit card capability, an account may be able to be set up by the employer
At Passport Software, we are always looking to enhance our accounting software to better protect the financial assets of the companies who trust us to provide stable and secure accounting systems to run their business.
Learn more about our comprehensive business accounting software for small business and mid-sized companies with excellent audit trails.  Or Contact Us – We are here to help.
---