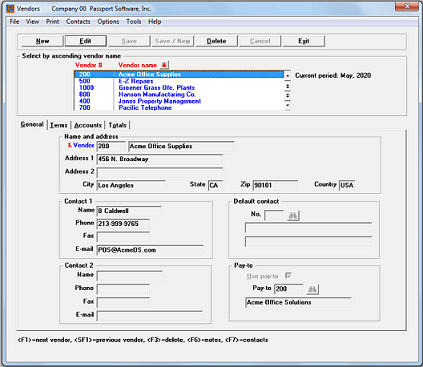 ---
---
PBS™ Accounts Payable
Hello again,
Did you know our accounts payable software for small business and mid-sized companies can help you maintain your good credit rating and assist in dramatically reducing the risk of fraud?
With Passport Software's AP software, you'll be able to keep accurate information on vendors or suppliers and easily track costs, available discounts, and ensure on time payments to creditors.
Accuracy
Our accounts payable software will help ensure you are paying only those that need to be paid and that you're paying them accurately. This can help reduce costly mistakes and ensure you are getting the discounts that you should be.
You can pay your vendors using our check processing tools, print immediate checks as needed, or pay them electronically using our ACH payment system. This last option is one of the first steps to minimizing fraud.
Positive Pay
Paying electronically reduces the risk of a check making it into the wrong hands. In addition, our positive pay feature can help dramatically reduce the risk of fraudulent activity.
If your bank supports positive pay, you can generate and submit a valid list of payments from PBS accounts payable, and only those payments will be processed by your bank, virtually eliminating fraudulent check activity.
Add to this our detailed audit trails, historical tracking of each and every transaction, and you have a solid, secure accounts payable system sure to help you automate your processes.
Integration
It also integrates with our optional Check Reconciliation module to aid you in fast bank account reconciliation at month end, and provides a complete cash management solution.
Passport Software's accounts payable can help you manage simple, single location vendors, or vendors with multiple buy-from locations, and even vendors with a separate pay-to location.
1099 tracking and printing, flexible terms, unlimited AP accounts and unlimited cash or checking accounts will help you manage the simplest AP function to far more complex situations.
Please call 800-969-7900 with questions.  Or Contact Us – We are here to help.
---